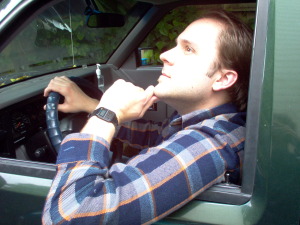 I will never understand people who write for a living but don't like it. And there are such people. It's not like we're rich. Hell, that would be like me deciding my calling was cleaning out portajohns. Writing is hard, it takes a long time, and you rarely get the adulation or money you deserve.
I was talking to one of these people recently. I asked him how he came to be bat-shit crazy. He mumbled something about a "son of a bitchin' press release" and haroomphed a big loogey. That was my cue to leave.
I write lots of things. I write dark, little short stories. I write intense novels. I write songs. I write articles about fishing with my daughter. I write press releases and articles about things I know very little about (cha-CHING).
I write from the moment I have crawled out of bed until my eyes are bleeding, I want to punch something, or my daughter says, "Dadda, will you stop working now and play with me?"
I write when I feel great. I write when I feel crappy. No way in hell would I do it if I didn't like it. I'd be a fireman or something.
Some people write for fame. Haha. That's almost as funny as writing for money. I bet you couldn't pick ten bestselling, millionaire authors out of a crowd.
I don't make a lot of money, but I've met a lot of cool people. People who are genuinely interested in me or my writing. Some of them are creepy (Hise). Most of them are super cool.
I'm friends with a guy who is famous for videos he made riding his motorcycle in Panama. He is legit. In a circle of riders, he is almost a king. He is charismatic and funny and talented. Halfthrottle (Ryan Grassley). Check him out.
But the reason I mention all this is that we were talking about writing. Money is relevant. So is fame. I have a little fame. He has a little more. And it is kind of scary. I get weird emails that make me never want to go on the Internet again. We were talking about this pseudo-fame, and we both agreed that being 'really' famous would be an absolute nightmare.
'Author famous' is where it's at. I have authors I have read and loved – no idea what they look like. I used Bird by Bird in my writing workshops. Anne Lamott's masterful book on writing. Side note: READ THIS IF YOU HAVEN'T.
So, anyway, I was getting burgers with the family one time and I saw her…actually my wife recognized her. I don't EVER do the 'hey, you're so and so' thing, but I liked her work so much, and I thought she might like to know I used it to teach, etc. It was, quite possibly, the most awkward conversation of my life.
Writers shouldn't be FAMOUS famous because we can't talk. That's why we write. I probably sent Lamott on a horrible bender.
So, write if you like writing. Don't do it for fame or money. Do it because it feels right to write. And if you recognize me in public someday, don't be surprised if I create a diversion and run away in a panic to the nearest liquor store.
*     *     *     *     *
JD Mader is a Contributing Author for Indies Unlimited and author of the novels JOE CAFÉ and THE BIKER – and co-author of the mighty Bad Book. For more information, please see the IU Bio page and his blog: www.jdmader.com (and musical nonsense here: JD Mader). Mader's edgier works can be found at www.blergpop.com.