Today we have a sneak peek from Katie Salidas' urban fantasy book, Soulstone (Book 4 in the Immortalis series):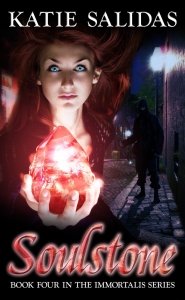 It's a desperate time for rookie vampire Alyssa, and her sanity is hanging by a slender thread. Her clan is still reeling from the monumental battle with Aniketos; a battle that claimed the body of Lysander, her sire and lover, and trapped his spirit in a mysterious crystal. A Soulstone.
Unfortunately, no amount of magic has been able to release Lysander's spirit, and the stone is starting to fade. In despair, Alyssa begs the help of the local witch coven, and unwittingly exposes the supernaturals of Boston to unwanted attention from the Acta Sanctorum.
The Saints converge on the city and begin their cleansing crusade to rid the world of all things "Unnatural." In the middle of an all-out war, but no closer to a solution to the dying stone, Alyssa is left with an unenviable choice: save her mate, or save her clan.
Soulstone is available from Amazon.com, Barnes & Noble, and Smashwords.
And now, from Soulstone…
"At least I'm out there living life, not moping around in some dingy cellar, waiting for a man who'll never return." His typically cheerful tone had all but vanished. "I'm trying to help you."
It was the first time I had ever seen Ian serious. Beyond that, he almost looked angry. His blue-gray eyes narrowed on me and his lip curled ever so slightly. "You have to know when to give up." He inclined his head toward the coffin. "Let a lost cause go."
I stared at him while anger and grief fought each other to be the dominant emotion inside me. My jaw quivered. I mashed my teeth together so it wouldn't show.
"Lost cause? Lysander's not a lost cause." My eyes watered. I blinked and turned away. I didn't want to melt down again. I didn't want anyone seeing me like this.
"Look, I'm sorry I hurt your feelings," Ian said, softening his tone. He smiled at me, but it didn't have its usual brilliance.
"You don't know what this feels like. To know that your mate is here, lying as if dead. But I feel him. I know he hasn't gone yet. Yes, Ian. I can feel his spirit. Right here."
I picked the crystal up, off Lysander's chest, and held it for Ian to see. "He's not dead and gone. I know you can't feel it, but I can. That's what makes this so difficult."
"I get it. You've been so maudlin lately. I'm just trying to lighten things up. Put a smile on that pouty face."
I huffed. There was no getting through to that man. How could I expect him to understand the loss of a mate? He was the pathological playboy of the immortal world. Sex was his answer for all life's problems.
"I'm sorry. Let's try this again." Ian's wide eyes suddenly narrowed on the crystal. "Hey, didn't that used to be all red?"
"What?" I pulled it closer to inspect. When Lysander had been trapped, the crystal had gone from completely transparent to a deep red color, as if it were made from blood itself. To my surprise now, the tip had turned clear.
"What does this mean?" I mumbled more to myself than to Ian.
"Good news, probably. Maybe the longer you keep that thing on Lysander's chest, the more his spirit can seep back into his body."
Oh, how I wished he were right! Ever the optimist, Ian had given me a little more hope. Maybe the spell would reverse its self after a short while, and Lysander would heal and return to us.
______________________________________