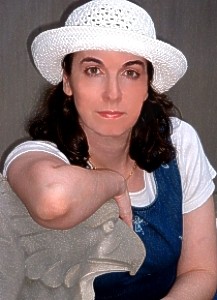 Shevi Arnold loves writing, illustrating, and making people laugh—and she's been doing all three since 1987 when she started working as an editorial cartoonist for a newsweekly. She's also worked as a comics magazine editor, an arts-and-entertainment writer specializing in comedy and children's entertainment, and a consumer columnist. Nowadays, though, she enjoys writing (and sometimes illustrating) humorous fiction, fantasy and science fiction, mostly for children and young adults.
Her novels to date include the children's book, Dan Quixote: Boy of Nuevo Jersey — a modern, American retelling of Don Quixote set in a middle-school — and Toren the Teller's Tale — a YA fantasy about the magic of storytelling and about one teenage girl's struggle to accept that magic within herself. Her latest novel, Ride of Your Life, a romantic YA ghost story, won third place in SmartWriter's Write It Now contest in the YA category, which was judged by Alex Flinn, the author of such novels as Beastly and Cloaked. Two humorous YAs — Why My Love Life Sucks: The Legend of Gilbert the Fixer (book one) and The Secret Life of Mira Levy, Rabbi's Daughter —  are scheduled for release in 2012.
Shevi says her greatest strength lies in writing humor. She tries to use the principles of comedy in everything she writes, even if it's a romantic tearjerker. "Humor also helps me deal with the rollercoaster ride that is the writing life. With all the ups and downs, you have to have a sense of humor about it."
When Shevi was working as an editorial cartoonist she developed a very simple equation for creating humor.  She says, "I discovered that humor involves three things that start with the letter S: Setup, Surprise, and Sense. Setup + Surprise + Sense = Humor. I call this formula the House of Funny, because the Surprise is created by looking at something—the Setup—from a strange angle, like looking at something through a warped House-of-Fun mirror."
Shevi feels the key to original writing is in looking at something in a surprising way.  "My romantic YA ghost story, Ride of Your Life, for example, started when I decided I had to "rewrite" the Great Adventure Haunted Castle fire of 1984 to give it a happy ending. In reality, eight teenagers lost their lives in the fire, but my fantasy novel deals with what happens afterwards. It isn't a completely happy ending, of course. The main characters are dead, after all. But it is a bittersweet ending, the happiest ending I could give something so terribly tragic. I took a real-life event and looked at it in a new and surprising way, through the eyes of a fantasy writer who needs stories to have happy endings. That's the way the House of Funny continues to work for me, no matter what I'm writing."
She says her main challenges are are time management and marketing. "I don't like marketing. Not having enough time for writing and editing gives me an excuse to avoid marketing, but I do know it's something I need to work on. Marketing is just so overwhelming to me. I used to be on the other side of the trenches. I was an arts-and-entertainment writer and a consumer columnist. PR firms came to me looking for reviews. I'm comfortable with that. I'm not comfortable with selling, least of all selling myself."
Shevi says she loves indie authors and enjoys helping other writers and sharing her writing and publishing journey with them. She's a member of several Facebook groups for indie authors, including the Ebook Experiment group, which she founded. "I also participate in several Twitter chats for writers, and some of the other writers in them have chosen the indie route. I've found Facebook groups and the blogs of individual indie authors (as well as some agents, editors, and traditionally published authors) to be the most helpful, simply because there's so much information to share, much more than can be shared in a 140-character tweet."
I found Shevi and I share a common view on the importance of the vaunted gatekeepers. She says, "Traditional publishers pride themselves on being the gatekeepers of literature, helping good books get into the world while preventing bad books from ever reaching a reader's hands. In recent years, however, we've seen a masterpiece like The Help receive over 60 rejection letters, and we've seen Snooki from Jersey Shore get a big fat advance for her laughably awful novel. If this is how the gatekeepers do their jobs, do readers really need them? I think the answer is clear: e-books let readers choose their own books — any book from any author without any gatekeepers — and, thanks to Amazon, at a reasonable price and with reasonable compensation to authors."
In her view, there's been no better time in history to be a writer or a reader. "Yes, I know a lot of what's out there is rubbish, but what if the reader wants to read rubbish? Isn't that the reader's right? Readers who love a book will hopefully write a review and tell their friends about it. The best — or at least the most entertaining — will rise to the top. It's the democratization of writing and reading, and I believe that's a wonderful thing."
Her advice to aspiring writers? "I know it's been said so often that it's probably coming out of your ears, but read, read, and read. Don't just read for entertainment. Learn to read with an analytical eye. Take apart everything you read. Ask yourself what works for you, what doesn't work, and why. Read both the classics and the bestsellers in your chosen genre. Read books on writing too. Take everything apart, from the characters and pacing to paragraph length and word choice. Get to know books inside and out."
I'll close the interview with these great parting words from Shevi: "Above all, never forget that writing is a joy. If you're not having fun, you're probably not doing it right."
Seventeen-year-old Tracy Miller met the love of her life . . . thirty years after her own death.
Tracy was working at the House of Horrors at the Amazing Lands Theme Park when the fire broke out. Instead of running, she lost her life trying to save eleven-year-old Mack. Now thirty years have passed, and suddenly everything changes with the arrival of two new ghosts: a little girl named Ashley and a cute seventeen-year-old boy named Josh. Josh would do anything for Tracy, but can he help her let go of the past and accept his love?
Ride of Your Life is a bittersweet, romantic, YA ghost story that was inspired by a true event: the Great Adventure Haunted Castle fire, which killed eight teenagers in 1984. It is a fantasy novel about undying love, and it won third-place in Smart Writer's Write It Now (W.I.N.) contest in the YA category, which was judged by Alex Flinn, the author of Beastly and Cloaked.
Hang on. Love can be as terrifying as a roller coaster, but it can also be the Ride of Your Life.
Ride of Your Life is available from Amazon. Find this and more titles by Shevi Arnold at her Amazon author page. Be sure to check out Shevi's blog and website. You can also find her on Facebook and follow her on Twitter.