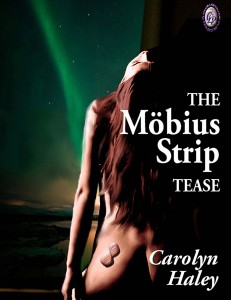 Today we have a sneak peek of Carolyn Haley's speculative fiction book, The Mobius Striptease.
Strange phenemona are disturbing New Atlantis, the fortress home of Dru Montclair­-a superstar whose mission is to inspire global peace through music. His lover knows that supernatural associations will destroy Dru's credibility, so she recruits her twin sister, Madeline LaRue, to defuse them. Madeline is a psychic who suppressed her powers to live a normal life, and releases them only when the anomalies turn sinister and threaten her twin. For guidance she follows the Möbius strip, which reveals the transition point between physics and metaphysics, proving the cause to be her own conflicting passions that must be resolved.
The Mobius Striptease is available on Amazon.com and the publisher's site.
And now, from The Mobius Striptease…
The Universe punished me for doubting its powers by arranging a special demonstration.
It dropped me, blindfolded and hamstrung, into a room with locked doors, and gave me four weapons: my paints, my doubts, my figure, and a library.
Then it said: "If you can find the right door and open it with the right key, then you can have your heart's desire. Oh, by the way—There's a psychic lunatic running around out there. If you can free yourself before the sands in the hourglass run out, then you can prevent him from corrupting a critical mass of humanity and plunging the world into a new dark age. Have a nice day!"
Okay, the universe didn't actually say this to me. If it had, I would have answered, "Forget it! I'll live without my heart's desire." After all, I'd been doing so for twenty-seven years.
I expected more of same as I backed out my driveway one August evening, heading for New Atlantis. A cryptic call from my identical twin sister had changed my weekend plans. Unaware I was launching on a preordained journey to entrapment and a psychic battle, I zoomed northward in altruism. Two hours later found me steaming along a fire road through the Green Mountain National Forest. Literally steaming: me in a perspiration cloud from heat and humidity abnormal for the Vermont mountains; my convertible steaming from the hit it had taken a few miles back.
It had begun the drive as a pristine vintage roadster—a '66 Sunbeam Tiger, my pride and joy and special toy that had taken me from novice driver to winner in autocross. Now it bled coolant and oil as it limped and thumped on a shredded tire, two bent rims, and damaged suspension. Its V8 motor shook the dense woods around us, as half my custom sport exhaust lay behind in the puckerbrush while the other half dragged beneath the car, carving a trail in the dirt.
Please, please! I chanted internally. Hang in there another mile!
No way would I walk alone through the wilderness in a sundress after dark. Even if the Tiger kept going, at ten miles an hour I'd still be out here when the looming thunderstorm broke and twilight fell. . . .
Please, please—c'mon, baby, hold it together—
Aha!
The forest pulled back to reveal a stone wall blocking my travel. Front and center loomed an iron gate backed by chain link and bracketed by cameras, set into masonry taller than I could reach. Along the top, barbed wire coiled like a lethal hairdo. Inside the gate, a guard shack squatted in the murk.
"Trespassers Will Be Teleported to a Hostile Planet!" said signs in four languages. And welcome to New Atlantis to you, too! I thought back. I couldn't blame the owner, Dru Montclair, for needing to live in a fortress. That happens when you're a mega-superstar, as was Blanche now that she shared his stage and his bed.
__________________________