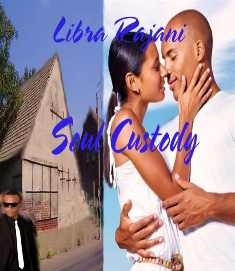 Today we have a sneak peek from Libra Rajani's romantic suspense novel, Soul Custody:
What would you do if the man you loved deserted your family without any forwarding address?
In order to make ends meet Gabriella opens a daycare center in her old neighborhood. Things are slow to say the least, and one suspicious disaster after another impedes her success. She's blessed to have Matthew. However, it is short-lived. Devon is back to reclaim his family. Will his demand ruin her life once again?
Soul Custody is available through Amazon.com.
And now, from Soul Custody…
"Gabs, Jesus," he said as he looked at her. "I just can't." He stripped the covers from his body.
She jumped back and her eyes narrowed as she watched him grab the familiar suitcase from the closet. She rose and got on her knees. What the hell? She crawled to the foot of the bed. "What are you doing?" She smiled. "Is this a new kind of foreplay?" She giggled. "I'm up for that."
He ignored her, grabbed various articles of clothing off the shelves of his armoire, and put them into the suitcase.
The smile left her face and she slowly got off the bed. I guess this isn't foreplay. "I asked you a question."
"Gabriella," he said when he finally decided to look up. "I'm sorry babe, but I can't do this anymore. I am all tapped out."
She gasped, and he was unaffected as she hurried in front of him. Tears now flowed freely from her eyes and traces of the Revlon mascara from the night before streaked down cheeks. "You're going to have to break it down for me because I don't understand," she whispered. "This is all because I complained about your sexual ability?"
He stared for a minute. "I don't know what it is, but we don't work anymore."
"Are you kidding me?" she said louder. "Why are you choosing to destroy our family? What was it you said when I got pregnant?" She put her index finger against her bottom lip. "Oh, I remember, 'I love you, we'll be together forever, raise our children together', right?" She walked up to him and pushed him. "You can't just march out of our marriage as if it means nothing!"
He caught his balance and shook his head.
She tried to pull him closer, but he resisted. "Devon, please, what did I do? What can I do to make it better?" she said as she hugged him. "I love you so much. Please don't leave me."
In his baritone voice, he looked through her and simply announced. "I'm not playing and there's nothing you can do." He pushed her away and looked around the room. "Gabriella, people change. I tried to tell you, but…" He shrugged his shoulders. "I don't know what else to say."
She closed her eyes and tried to make sense of what was going on. His attitude of was overwhelming. In fact, the whole situation had been enigmatic. After nearly four years of marriage, it came down to this. Without the simplest of warnings, the man she had once known disappeared. "What about Sabrina?" she said barely above a whisper. "Have you even thought of her, or has she become expendable as well?"
Devon paused from his unexplainable tirade, and for a split second, she thought that maybe there was a chance, but as she watched him continue on, it dawned on her, and she finally understood. Whatever she said, whatever she might have done out of pure desperation, would be futile. It was over.
"Tell her whatever you want." His response was cold and a chill ran through her limp body. "Chances are she won't remember me anyway." He threw the remaining articles into the case and lingered for a moment as he stood at the door. "I'll send for the rest."
___________________________________