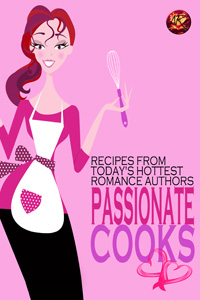 Author Jacqueline Hopkins is happy to announce that her recipe, Wilderness Chili from her book Wilderness Heart, was accepted into the anthology cookbook, Passionate Cooks by All Romance eBooks. The book is now available for free at ARe.
In Passionate Cooks: Free Recipes From Today's Hottest Romance Authors, over 150 authors of the genre have put their pens and computers aside to don aprons, get down and dirty in the kitchen, and share their love of food. Much like romance novels themselves, the dishes range from spicy to sweet. There is something for every taste and every level of culinary expertise.
For more information on Jacqueline Hopkins, visit her blog or her Amazon.com Author Central Page. Wilderness Heart is available in print and as an eBook from Amazon.com, and on Smashwords.