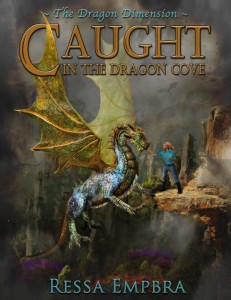 Author Ressa Empbra is pleased to announce the release of her new science fiction fantasy book, Caught in the Dragon Cove.
Working for a covert government agency, Iax travels the world—and beyond. She also journeys out of this world to other Realms in various Dimensions, of which only a privileged few know. Her job: Putting a halt to imminent battles and wars—before it's too late. Finding herself in a heated battle in the Dragon Cove Realm of the Dragon Dimension, Iax assumes the usual; get in, get the job done, get out. Easy-peasy. This mission is like no other, however, as it will change her life in ways she never could have imagined. Get Caught in the Dragon Cove where secrets and tempting passions lurking just out of sight, will be revealed.
Caught in the Dragon Cove was published on September 19, 2012 by Theressa M. Branham and is available exclusively on Amazon.com and Amazon UK as an e-book.