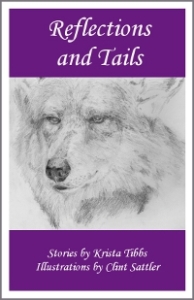 Author Krista Tibbs is pleased to announce her latest title, Reflections and Tails, a book of short stories illustrated by Clint Sattler. In celebration of this recent release, five paperback copies will be given away on Goodreads.com on October 19th.
From moose and mental illness to cat rhymes and an ode by sheep, this illustrated collection reflects human hearts through the animals that touch them. A service puppy, a medical lab, two friends and a seagull, dads, and a dude ranch are some of the pieces of life inside these animal stories for grown-ups.
Reflections and Tails was released in July of 2012. It is available in print and Kindle format on Amazon.com and Amazon UK and in additional e-book formats on Smashwords and BarnesandNoble.com. You can enter the Goodreads give-away here.
---