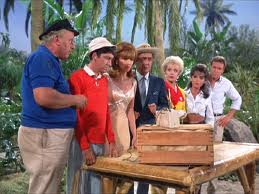 In 1965, halfway through the second season of prime time television favourite, Gilligan's Island, there was a two week break. Do you remember that happening? I was two, so I've only seen the show in reruns, but I've heard about the famous gap.
This is how it played out. In between the first and second part of season two, something happened. When the stranded islanders came back there was a difference. The captain and Mr Howell weren't getting along, and Mrs Howell kept sending sideways glances at the captain while waving her little white-gloved hand at him. The professor seemed like he was hammered all the time and Gilligan had become sullen, and was always off by himself. Something happened in those two missing weeks. There were episodes; real things that happened that were never explained to us.
That's how I feel right now. I've been in the cave, writing, and I've emerged to some major discontent in Indie Publishing Land. I totally feel like I've missed a couple of episodes. I mean I'd never even heard of "sock puppets" until now.
Firstly, there's Reviewgate, the review scandal that's mildly rocking the publishing world.
From what I can tell, this is what happened. Apparently, a major indie author paid to have his books reviewed. He's since been defended (kind of), ostracized (kind of), and now he's just plain quiet. Same indie author sold approximately 38,000 ebooks last month by the way.
Then there's the traditionally published writer who has admitted to writing bogus reviews of his own and his fellow writer's work. This is where the "sock puppets" come into our story. He's not being defended anywhere of course, and I imagine he's now doing a Gilligan and hiding out in the darkest part of the island.
And finally, there's the word "indie" itself. Independent, or self-published writers, are up in arms at the way "indie books" are being described. There are some mainstream, traditionally published authors, and I suppose some of their publishers too, who are trying to liken indie books to poorly-written books. So, will there now become a whole group of writers who are "reluctant indies"? Will there be more and more self-published authors publishing their work under their own XYZ Publishing House label in order to authenticate their legitimacy and not be labelled indie? Will there be a "United Artists" kind of arrangement amongst indie authors who are trying to appear as though they're not indie authors? Or, are these things happening already?
I got lucky earlier this year. I self-published a book and it sold very well. The first advice I received as a newly self-published author is still the best advice I've received. Robert Bidinotto, author of Hunter, told me: Make yourself look professional. Have your work professionally edited, purchase a good cover that looks like the covers that are in the top ten of the genre your books fits into, and find your sweet spot in terms of pricing, not too high, not too low. I followed Robert's advice, and I feel I have a book that looks professional. It's not perfect and I was called out by a couple of readers for some editing and formatting mistakes but I corrected those right away. In spite of that, every time I've been interviewed on radio, print or online, I'm referred to as an indie writer. I'm certainly not anywhere near to being an indie poster child, (Did you see that Hugh Howie got to go to the Amazon press conference? Lucky bum), but I have the clippings to prove that I've been talked about. I even laminated some of them just in case the dream suddenly ends.
The truth of the matter is, there's no race, and no finish line, and quite honestly, if this is a revolution, it's always going to be here. The publishing, and self-publishing world is going to keep evolving and changing. Will indie published books someday be held in the same reverence as indie music and film? Possibly, but the content and presentation has to improve before we get there. And, we have to realize that everything we do is transparent. The old Bob Dylan saying still rings true-If it ain't right, it's wrong. We need to consider that when it comes to reviews and promotions. Sales of self-published books are exploding, and it's a great time to be a writer. Traditional publishers are adjusting and accepting us, slowly. As self-published artists we need to make sure sales keep exploding and we don't implode in the process. I constantly talk about paying it forward, and there are a lot of indie authors doing just that. In other words, if everyone on the island just got along and helped each other, nothing could stop us. It's the only way we're going to have a shot at being treated with respect by the most important group of people-our readers. And, it's the only way we're going to compete with traditional publishing houses.
As I climb back into the cave, and leave you, in the hopes that I return to only positive energy in our community, I'll prologue this little rant of mine with a comment that the freckle-faced girl I live with fired at me the other day. She said, "Nobody cares. Readers don't care. They only want to read a good book."
So, with that in mind, forget everything I said. If you're a writer, go and get better at writing, and if you're a reader, go read a book, indie or traditionally published, it doesn't matter, because like the freckle-faced girl said, "Nobody cares anyway; they just want to read a good book."