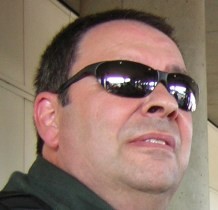 by Mike Markel
A lot of people have been coming up to me on the street, asking me how my Author Chat on LibraryThing went. Well, not actually a lot of people. In fact, nobody. But that's the good thing about social media tools: instead of just muttering to yourself like a crazy person you can broadcast your mutterings without feeling quite so crazy, although to be honest I think it means you're crazier or at least more pathetic.
So, I went on LibraryThing.com to do an Author Chat, which would last a week. My first novel, Big Sick Heart, a police procedural, had recently been published. Also doing an Author Chat at the same time was Samantha Bruce-Benjamin, author of The Art of Devotion, which the critics were calling a haunting debut novel that evokes an age of elegance and grace. I didn't like any of those words, mostly because I never hear them used in connection with me.
But I was not happy, because this high-toned other author, whose book was well reviewed on LibraryThing, was obviously going to wipe the floor with me. She was going to have legions of readers stopping by to chat with her, leaving me like that Pink Floyd character sadly asking "Is there anybody out there?"
An Author Chat, however, like life, is not a competition. So what if she's more talented, more respected, and more popular? We're all God's children with our own special gifts. (However, if you need further evidence of God's whimsy, take a look at her photo on Amazon. Don't take a look at mine.) So I talked myself into being happy that the good people at LibraryThing had given me an opportunity to do an Author Chat.
On the first day, one person stopped by to chat. He hadn't read Big Sick Heart, so we had little to chat about, but I decided to pretend that this was an author reading, in which most of the people in the audience have not read the book. The one person in my audience asked me a couple of reasonable questions (about why the protagonist, Detective Karen Seagate, is female, and why I set the book in Montana). I answered the questions politely and informatively and ended by describing the seventeen different contests, offers, guarantees, and other desperate pleas for attention that my publisher and I had set up, all of which would enable you literally to make a profit by simply reading and disliking my book.
I was feeling pretty good that on my first day on Author Chat, someone had stopped by. That was Monday. Then came Tuesday. Then came Wednesday. (I won't bore you by naming the rest of the days. You get the point.)
By the end of the week, I was feeling pretty bad that only one person had stopped by. I decided to grind in the misery by looking to see how Ms. Benjamin-Bruce was doing. I steeled myself to see screens full of adulation and excited interchange. But all I saw was a pleasant hello from the author:
"I am very excited to discuss my novel, THE ART OF DEVOTION, with all of you. I look forward to hearing your questions!
Best wishes, Samantha."
What? Nobody has stopped by to chat with her, but a person had chatted with me? To hell with the idea that an Author Chat is not a competition. Of course it is, and I was winning, 1-0. I was feeling pretty good.
But my childish attitude soon made me feel pretty bad. I decided to act like an adult. Since it seemed acceptable to visit an author even if you haven't read her book, I decided to visit her. I sent the following message:
"Ms. Bruce-Benjamin-
I'm sitting at the next booth in the Author Chat pavilion, waiting for people to stop by and chat with me about my mystery, Big Sick Heart.
I hope you don't mind my stopping by to ask a couple of questions about your title (I'm a little embarrassed to admit that I haven't read your book–the reviews on LT are very positive).
1. Does "devotion" have a religious connotation, as well as one or more secular connotations?
2. Does "art" have a sense of artificial, or of a practice that is so ingrained or self-referential that it is somehow disconnected from its original impulse?
My feelings won't be hurt if you suggest I return to my own booth.
Mike Markel."
You'll notice right away two positive things about my message. First, I didn't mention anything about her appearance. (Did you look at her photo yet? You really should.) Second, I didn't mention that nobody had stopped by to chat with her. That would have been churlish. Admittedly, my questions had the whiff of Mediocre English Grad Student (maybe I'm revealing too much), but at least I had made the effort. So I was feeling pretty good.
Can you write the last paragraph of my little story? Of course you can. Ms. Benjamin-Bruce never did reply to my post. When I ended my post to her with the sentence "My feelings won't be hurt if you suggest I return to my own booth," I was lying. My feelings would have been hurt.
But not as much as they were that she simply ignored me.
So I'm feeling pretty bad.
---
Note: like many pre-famous novelists, Mike Markel has written a sequel, Deviations, which is available from Amazon. He would love to hear from you. But he isn't getting his hopes up.