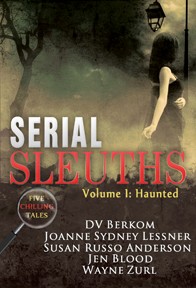 This past summer I was invited to contribute a short story featuring Kate Jones, the main character from a popular thriller series I write, to an indie anthology for Halloween. Since it was for a worthy cause (Doctors without Borders) and because the mastermind behind the anthology was Jen Blood, a mystery writer whom I respect immensely, I jumped at the chance. SERIAL SLEUTHS Vol. 1: Haunted just went live on Amazon.com as an ebook, and 100% of all net proceeds go directly to DWOB. I'm beyond thrilled to be a part of this awesome collection.
Being involved in the anthology was an amazing experience, especially so because it's a collection of short stories from five professional indie authors. This means five serious writers with varying experience in everything from book cover design to editing, formatting to promotion, to publicity. Everything went smoothly and everyone contributed. It was, in a word, fantastic, and I'd do it again in a heartbeat.
It got me thinking: I'd heard of other indie authors doing the same thing (our own Lin Robinson is a contributor to Fear: A Modern Anthology of Horror and Terror Volume 1, which donates its proceeds to two international charities) and wondered how much of a trend this whole ebooks for charity gig is?
Writers, both trad and indie, have contributed to anthologies forever. It's a great way to reach readers who may never have heard of you by joining forces with other authors who have their own audience, as well as build a community of like-minded folks. From my research on the subject, the advent of dedicating royalties to charity has become a serious trend in the indie community. Not only does it eliminate that pesky problem of how to divvy up the proceeds, but it's a fantastic way to elevate the indie brand while helping to support deserving organizations. What's not to like?
Going even further, I found that websites plugged into this zeitgeist are cropping up everywhere: there's Humble ebook Bundle (HumbleBundle.com), and SnugNugget.com, both of which allow the purchaser to set their own price and to decide whether their dollars go to a charity, the authors, or the site itself. They can select a portion to go to each if they choose. HumbleBumble.com donates to Child's Play (games for children's hospitals), the Electronic Frontier Fund and Science Fiction Writers of America Emergency Medical Fund. SnugNugget.com donates to Book Aid, an international organization working for the development of education in sub-Saharan Africa.
Then there are those organizations that work with a range of artists like Music Speaks (MusicSpeaks.com). From their website: "Music Speaks is an alternative music label run by a network of artists and activists." The group represents artists from a variety of genres, including the written word, and supports issues of social justice, human rights and the environment. How cool is that? Just think of the possibilities!
The immense power of the internet is still in its infancy. It's exciting and amazes me on a daily basis. There are several organizations out there participating in this karmically-positive trend, so venture forth, discover and become one with the force that is the charitable indie.
---
Indies Unlimited does not endorse or recommend any specific charity or cause. We recommend due diligence on the part of anyone who chooses to participate in any fundraising event through donation of time, money, services, or material goods. Any such causes or activities featured here on the site are for the purposes of illustrating the involvement of specific members of the indie community and are presented for informational purposes only.