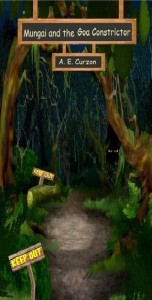 Mungai and the Goa Constrictor
by Amelia E Curzon
Genre: Children's Literature
Word count: 37,489
Mungai, a jungle creature of indeterminate origin, happily ambles through life dreaming up scandalous get-rich-quick schemes. On his travels he encounters Goa, an equally ruthless and selfish boa constrictor. Having explained to her "the usefulness of the lesser species" and his latest highly profitable plan, Mungai tempts Goa into joining him in his search for as many unsuspecting creatures as they can muster.
Very soon they meet and befriend some innocent animals of the woodland, including Bodger an amiable and easily led badger. With much flattery and tale spinning, Mungai manages to coax Bodger and his friends into joining forces with him and Goa in his latest ill-founded chicanery. So convinced are the little animals by Mungai's anecdotes of wealth and happiness, the gullible companions persuade multitudes of other species from the animal kingdom to come along as well.
But, before too long, the animals become suspicious. They also discover Mungai and Goa are in league with the two-legs they despise and fear so much. Dissatisfaction burgeons and rebellion becomes imminent. But, by the time Mungai finds out that those he shamelessly inveigled into his plans are not as naive as he first thought; the animals have organised and the tables have turned.
With so many kinds of animals involved, each with their own specific set of skills, and all working together, Mungai and Goa find their slothful world turned upside down, and realise they may be about to lose everything they have worked so little for.
This book is available from Amazon US and Amazon UK. Paperback available from CreateSpace.
Amelia, how did you come up with the title for your book? Does it have any special meaning?
Goa's name is an acronym for Gone – On – Arrival, which is what most of her prey are. And Mungai's name is an acronym for Manipulate – Uproot – Neutralise – Govern – Affect – Infringe. All of which sum up Mungai's philosophies perfectly. Much the same as todays' leaders in the real world!
Who was your favorite character and why?
Bodger – hands down! Whatever happens, he sees the good in all. He's naively unshakeable in his beliefs, but when push comes to shove he can always be relied upon. The world would be a better place with more characters like Bodger, though a little guidance wouldn't go amiss.
Does your book have any underlying theme, message, or moral?
Yes! For children and adults alike, there's a very positive message about ending the wanton destruction of the rainforests. And yes, there is also a moral; beware of predators in the guise of friends, and never trust without question nor follow without forethought, people do lie.
What would/could a reader or reviewer say about this book that shows they "get" you as an author?
"Curzon has done us all a huge favour by shining a spotlight on, and enlightening us to, the damage done to our society by these unconscionable and despicable human beings. Her insight into this behaviour, and relaying this message through the depiction of animals, is truly remarkable." (Jane Whiteoak –2013)
Give us an excerpted quote from your favorite review of this book:
"Curzon has created a beautiful fable, Mungai and the Goa Constrictor, warning of the effects of destruction of the forest in a fashion that's innocent, entertaining and compelling." – (Scarlett Raines)
Where can people learn more about your writing?
Website of Mungai and the Goa Constrictor: http://mungaiandthegoaconstrictor.me/