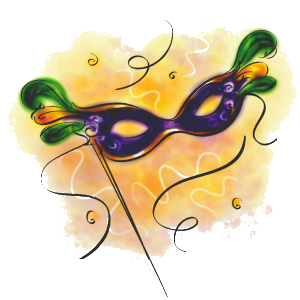 Imagine for a moment that you have been invited to a costume party especially for authors.
You must dress in a costume that reflects the kind of writing you do. If you write in more than one genre, your costume must incorporate some element from each genre.
The game is that readers who attend will try to divine who you are from looking at your costume.
The more genres in which you write, the more elaborate your costume becomes; which may mean it will be harder for readers to guess your identity. That's not how you win in this game, though. You win by being recognizable.
It's entirely possible to end up with a costume that consists of a cowboy hat, wetsuit, trench coat, bustier, a bandolier filled with dog biscuits, and a clown nose. What does that say?
I'm not advocating that authors become genre slaves, but I do think we have to recognize that writing in different milieus does ratchet up the difficulty in establishing and marketing yourself as a brand.
We're working in a new paradigm. Few of the rules that governed the old world of publishing apply to the new. The fact that I am unaware of any multi-genre superstars doesn't mean there isn't one, or can't be one. Whether it is possible is one thing.Whether it is wise to do so is another question altogether.
But it may not be that everyone who writes in multiple genres is looking for equal success in all those fields of endeavor. Some of us are merely casting about, looking for what works and exercising our writing muscles as we go.
Protestations aside that "we must go where our muse takes us," if you happen to write a wildly successful zombie novel, you are likely to tell your muse to shut the hell up while you write another.
It is fun to test ourselves in multiple arenas, but we tend to play to our strengths. To do so, we have to first find our strengths. That means trying different things. Sometimes, we may find our strength does not repose in the areas we'd prefer.
The evidence suggests Arnold Schwarzenegger wanted to get out of his Conan/Terminator rut to be a comedic actor. He tried. That is not where his strength lies. Seriously. But he tried and hopefully he has learned something from that experience.
Back to the costume party. I realize my costume has become pretty confusing. I have a lab coat, Groucho glasses, and a raven sitting on my shoulder. My published writing (so far) consists of some fringe science, humor, and some dark suspense.
It is about to get worse. I'm about to add a Fabio wig and a purse dog. Soon there will be a biohazard suit. I'll also be adding some gore-spatter to my outfit.
Part of all this is about writing what I feel like writing, but I'd be lying if I didn't admit that a big part of it is also that I am still searching for the best niche.
So, what about you? Tell me about your costume.