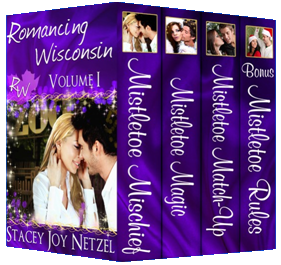 Romancing Wisconsin Volume I (Holiday Boxed Set)
by Stacey Joy Netzel
Genre: contemporary romance
Word count: approx. 100k
USA Today Bestselling author Stacey Joy Netzel presents Romancing Wisconsin Volume I. This heartwarming boxed set includes the 2010 Write Touch Readers' Award-winning stories Mistletoe Mischief, Mistletoe Magic, Mistletoe Match-Up, and the exclusive bonus short story, Mistletoe Rules.
Christmas in July is the theme of Mistletoe Mischief, with two single parents who never expected to find love at the zoo. Mistletoe Magic centers around an animal rescue and an Army veteran trying to move on with his life after a traumatic third tour of duty. Mistletoe Match-Up brings together two former high school rivals for a whole new set of fireworks. Each story features Santa Butch, a mischievous matchmaker with a heart of gold.
25% of the net royalties for this boxed set for the month of June 2013 will be donated to the Wounded Warriors Project to help our nation's veterans.
This eBook box set is available from Amazon, B&N, Kobo, and Apple.
Stacey, how did you come up with the title for your book? Does it have any special meaning?
Romancing Wisconsin is my series title, expanded from a previously published anthology, Mistletoe Rules. The stories take place in WI, and I'll be adding 3 stories and a bonus short for each season.
Who was your favorite character and why?
Santa Butch is my favorite. He's a matchmaking rascal, and he's named after my dad, who used to play Santa around the neighborhood when I was younger.
Does your book have any underlying theme, message, or moral?
The overall theme is Christmas, but the joy of the season and the promise of love can be enjoyed anytime of the year—especially since the first book is set in July at the zoo.
What would/could a reader or reviewer say about this book that shows they "get" you as an author?
That it's heartwarming and fun and it left them with a smile. That's all I really want to do with my books, is entertain and leave someone feeling good when they're done.
Give us an excerpted quote from your favorite review of this book:
"I will be rereading these next year!" Sue, Amazon reviewer. I rarely re-read books because there are just so many, so when someone likes mine enough to re-read it, I'm thrilled!
Where can people learn more about your writing? 
www.staceyjoynetzel.blogspot.com
Attach (DO NOT EMBED) JPG or PNG file of Book Cover NO LARGER than 500kb
Please return the completed questionnaire to the Indies Unlimited Co-Administrator at [email protected]