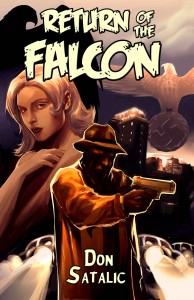 Today we have a sneak peek from Return of the Falcon, the hard-boiled mystery novel by author Don Satalic.
The year is 1946. Chicago private eye Joe Ganzer, a haunted former WWII espionage agent, is about to take a case he doesn't want from a mysterious Russian beauty he doesn't trust to locate an uncle whose story he doesn't believe. And a two-time loser from the past will ask Joe to get him out of a treacherous jam. If he helps him, they may both end up dead. Joe Ganzer becomes tangled in a web of espionage and Nazi collaborators and stolen art and murder– and at the center of it all is the infamous Maltese Falcon.
This book is available from Amazon, Smashwords, and Amazon UK.
Here is an excerpt from Return of the Falcon…