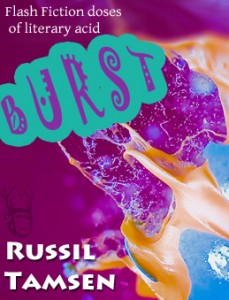 Today we have a sneak peek from Author Russil Tamsen's new flash fiction collection, Burst.
Slightly demented stories inspired by actual dreams. This collection of 130 quick reads is perfect for when you're sitting on the john, or you're needing a quick fiction nibble over lunch. Or you're just feeling too A.D.D. to commit to a novel. Destined to become the kind of cult classic that William S. Burroughs would pass around to his friends. Also influenced by Tom Robbins and Chuck Palahniuk. BURST is full of memorable, off-kilter characters entangled in uncomfortable comedies of errors and misadventures: from a Guy Ritchie informed thug to telepathic aliens, and more!

Burst is available from Amazon.com and Amazon UK.
Here is an excerpt from Burst… Continue reading "Sneak Peek: Burst"