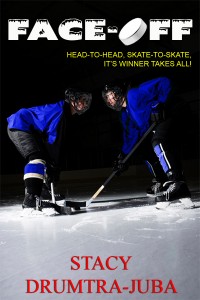 Today we have a sneak peek from author Stacy Juba's young adult sports fiction book: Face-Off.
Brad's twin brother T.J. has gotten himself out of the fancy prep school his father picked for him and into the public high school Brad attends. Now T.J., the bright light in his father's eyes, is a shining new star on the hockey team where Brad once held the spotlight. And he's testing his popularity with Brad's friends, eyeing Brad's girl and competing to be captain of the team. The whole school is rooting for a big double-strength win…not knowing that their twin hockey stars are heating up the ice for a winner takes all face-off.
Face-Off is available as an eBook, paperback, and audio book from Amazon, Barnes & Noble, Kobo, Smashwords, and Amazon UK.
And now, an excerpt from Face-Off…