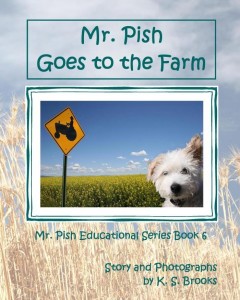 The new Mr. Pish book was unofficially released on 6/14/13. Within 24 hours, Mr. Pish Goes to the Farm hit #1 on the Amazon.com Hot New Releases Lists for Elementary School Books as well as Children's Nonfiction Animal Books.
Mr. Pish Goes to the Farm is the sixth book in the Mr. Pish series by award-winning author and photographer K.S. Brooks. Filled with vivid color photos and written in an informative and lighthearted way, this book is sure to entertain and educate children about the importance of farming and agriculture.
To what does Ms. Brooks attribute the stunning success of this latest book? Sadly, after zero attempts, I was unable to reach her for comment. However, I did find a note in my handwriting that credits the eye-catching design of the book's cover. Who was the genius behind this amazing design? We may never know. (ahem)
Mr. Pish Goes to the Farm
by K.S. Brooks
Available from Amazon US, Amazon UK, and
Smashwords.
The adventurous traveling terrier, Mr. Pish, takes us on a personally guided tour to show us what goes on at a farm. From playing with a cute lamb to driving a big swathing machine, Mr. Pish explores it all in Mr. Pish Goes to the Farm. In this sixth book in the Mr. Pish Educational Series, full color photographs and engaging text provide us with entertaining insight to teach us where our food comes from!
Be sure to check out the new website: http://mrpish.com