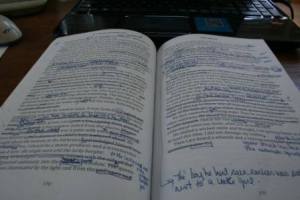 Back in the olden days, before eBooks and the internet and such, we used to print out manuscripts. Crazy, right? Now, with all these great ways to electronically generate books, we crank 'em out, edit, and proof read them in digital form. Guess what? I think that's a BIG mistake.
The venerable Ed McNally wrote about self editing in this post. Like Ed, many people suggest you load it on your Kindle, or read it out loud, etc. All those techniques are good; but the one thing I think makes a huge difference is – printing it out.
You've never heard of such a thing, right? Well, before you get your panties in a bunch, let me tell you why I think it's a good idea to just go right on over to Createspace, upload the first draft of your baby, and order a proof. A first draft? Yes, a first draft. With Createspace? Yes, with Createspace. Now stop mimicking me. (No, I'm not getting a commission from Createspace. If you prefer a different print-on-demand vendor, go right ahead and use them.)
There are many benefits to using this method:
#1 – Createspace proofs are a lot cheaper than printing out the manuscript at a local printer. (And I don't know about you, but the thought of trying to double-side print 300 pages is about as fun as trying to wrangle an angry octopus.)
#2 – You get an idea way in advance how many pages your book will be and what it will look like.
#3 – If/when you send the copy out to your editor, there is NO doubt that the pages are formatted exactly the same. The editor can tell you "paragraph 2 on page 170" and you know you're both in the same place.
#4 – You can take it wherever you'd like to read/edit, and you don't have to worry about losing any pages.
#5 – The print proof will be delivered directly to your mailbox.
I really think there is something about a print book that makes you focus differently and/or better. You're not tempted to switch screens to check your email or your Facebook status. You can go to a park, sit on the patio, or lock yourself in the bathroom if people in the house won't shut up. It doesn't matter how many times I've read something on a screen – I will ALWAYS catch problems once I get my hands on the print version – guaranteed.
I'm an advocate of having print versions of books anyway – and with print-on-demand technology, you don't have to worry about large print runs killing trees. I like to display a print copy of each of my books any time I do an event or presentation. I have seventeen titles – am I supposed to have seventeen kindles on the table? I think when people walk by, they're more likely to be impressed by a stack of books than a rotating slideshow on a screen.
I like the fact that I know very early on whether my cover art works, and if the back cover matter fits well. It also gives me the opportunity to mess around with different or artsy chapter headings and see how those look.
Unless you elect to go with their expanded distribution program, Createspace costs you nothing (other than the price of your print proofs). I find the formatting to be extremely easy. Our Lynne Cantwell wrote about that here. And our Martin Crosbie filled us in on the expanded distribution program here.
So, why not? What could be better than holding your book – giving yourself the opportunity to see it as your readers would – and to correct any issues well before before publication.