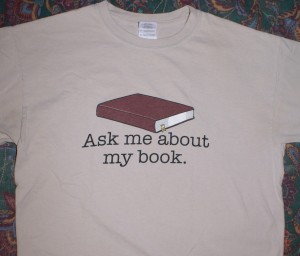 Last month I probably had you scratching your heads on why authors are like crawdads. This month, it's aliens!
Yes, writers are like aliens because we tend to be skittish when it comes to dealing with the human race. But there are a few things we can do to help break the ice when we finally get around to showing our faces in public—making that first contact. As I've joked before, I live in the middle of nowhere. When we go into town, I try to make my interaction with other humans count. How?
Well, on occasion, I cheat. I found a cute little T-shit from the Signals catalog. It says: "Ask me about my book." I especially remember to don this tan frock when going into unexplored territory. Recently while in another county, in a fabric store; one of the salesmen came up and asked me about my book. My response: "Well, which one?" He looked at me funny. I replied: "I'm an author, I have several books published. What genre do you like to read?" He replied that he liked sci-fi, so I whipped out a business card, proudly handed it over, and informed him that I have a free sci-fi novella on Amazon, BN, and Smashwords. He took it, thanked me, and said he'd check it out.
Ice broken. First contact.
Café Press can even make up shirts with your book cover on it. I'd thought about having one done, but realized I write too many genres to make it viable. This would work for someone with only 1-2 books. And having great looking business cards is a must!
One day, while checking out at the local grocery store, I was chatting with my husband about my newest release. The cashier overheard us and asked me if I was a writer. Bingo! First contact! And then I launched into my well-rehearsed spiel and quickly offered a business card.
I'm not sure if these contacts resulted in any sales, but I made the effort. With less than 30 seconds of human contact, I may have gained a potential reader and fan. And if they like my work, they'll tell their friends. And we all know word-of-mouth is golden in sales.
When I go out to garage sales I make sure that I have cards in my purse. If I'm perusing items and see a lot of fiction books for sale, I ask the seller: "Do you do much reading?" I either get a reply: "Oh, yes, I read a lot." Or "Oh, I used to have time to read; now I don't." If I get a negative reply, I don't pursue it. But, on the other hand, with a positive reply, my wonderful spiel gets put into play. I even think it resulted in a paperback sale. One lady I was chatting with was going to be flying to the UK soon, and she loved paperback romances. Well, did I have one for her! Checking my CreateSpace sales, indeed one was purchased last month. Was it her? I can hope.
You never know when your first contact will result in a sale. Some folks are easy to approach and pass a business card to (especially if you tell them you offer free stuff), but others will not be so accepting. Don't push the point, there are hundreds who will jump at the chance to read a local author (my USPS mail lady is one of my biggest fans).
Be cordial, polite, and SMILE!
Even if you make contact and the person says they only read crime thrillers; see if there's something you've written that might entice them. For example, I'd try and steer them toward one of my military thrillers. Who knows what response you'd get?
The bottom line is you have to open your mouth in these situations. Yes, writers are like aliens, but we don't have the skills to telepathically implant suggestions into the minds of potential readers. We must verbally engage another human—even if it's only 30 seconds. So find a pitch and practice it on would-be fans. You might crash and burn a few times, but when you're comfortable with it, you'll be able to converse with another human and possibly garner some sales. Good luck everyone!