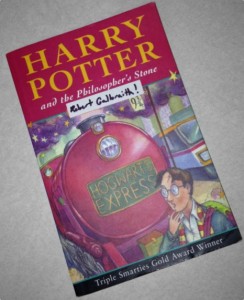 Who woulda thunk it would be J.K. Rowling, of all people, to test the power of the pseudonym?
Rowling, of course, is the gazillion-selling author of the Harry Potter series. Upon hearing that she'd bought herself a Scottish castle, I wondered whether we would ever hear from her again. Hadn't she already hoovered up all the loose change in the publishing world? Couldn't she retire from writing and, I don't know, administer charities or something?
Apparently not. Last fall, amid much fanfare (although lacking the squealing tweens and the giveaways of round-framed glasses that greeted the launch of the later Harry Potter books), Rowling released her first adult novel, The Casual Vacancy, to tepid reviews. Right now, it's got a 3-star average from some 3,600 reviews on Amazon; one called-out review says the book is "like a bad movie that you just want to end so you can say you know how it ends."
But if you thought Rowling's literary career was over, you'd be wrong.
In April, amid no fanfare whatsoever, unknown newbie Robert Galbraith released his first book – a mystery called The Cuckoo's Calling. It has just 85 reviews on Amazon as I'm writing this, but it's averaging 4.2 stars and the called-out comments are quite positive. One reviewer even says she "can't wait for the next installment in what I hope will be a series."
This week, Rowling was outed as the author of The Cuckoo's Calling. I expect that any minute now, the number of reviews for the book will increase exponentially.
But will its rating drop? That's an intriguing question.
Disclaimer: I haven't read either The Casual Vacancy or The Cuckoo's Calling. But it doesn't take a marketing guru to wonder whether a lot of the 1- and 2-star reviews for The Casual Vacancy might have been from Rowling haters – people who didn't think she deserved her success and who were prepared to trash anything else she wrote.
This is not the first time, of course, that J.K. Rowling has used a pseudonym. The use of initials was standard practice for women authors a century ago, because otherwise the publishing world wouldn't take them seriously. Apparently, when she adopted the Galbraith moniker, her thinking ran along similar lines; she's quoted as saying, "It has been wonderful to publish without hype or expectation and pure pleasure to get feedback under a different name."
Indies sometimes struggle with the question of whether to adopt a pen name when they write in a different genre from their usual books. On one hand, it feels like a holdover from traditional publishing, in which writers were routinely advised to use pen names for works outside their wheelhouse. And it means starting over – building a new social media platform, and gaining new likes and new fans. But clearly, in some situations, using a pen name can be a smart move.
But why is Rowling putting herself through this? Why not just retire to that Scottish castle? Think of it this way: If you won the lottery (which is essentially what Rowling did with Harry Potter) and never had to work for a living again, would you keep writing? For me, the answer is obvious.