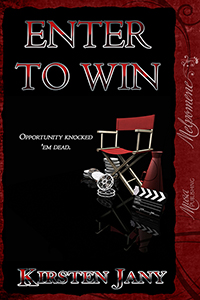 Today we have a sneak peek from Enter To Win, the mystery novel by author Kirsten Jany.
Director Rob de Heer's latest publicity stunt to revitalize his failing soap Crystal Falls – a contest giving viewers a chance to have a character shaped after them – seemed brilliant…right until Rob was found murdered on the set. Could the key to Rob's death lie in the four finalists who have been invited to spend two weeks in a mansion in the Hollywood Hills? Now the police recruit Rob's underpaid lackey Jeremy to babysit two liars, an accused wife killer, and a snitch under the guise of shooting a reality show that will crown one of them the winner. Competition has never been this deadly.
This book is available from Amazon, Barnes & Noble, Kobo, and Amazon UK.
Here is an excerpt from Enter To Win…
I guess if you find these pages, things aren't looking too good for me. Who knows if I'm still alive? Who knows if anyone will care? After all, I'm just the assistant, and the guy I used to work for is dead already. The police advised me to keep a log, a place for me to observe and tell the truth. If only I knew what that was!
Even if we never meet, I'd hate to go down as the unknown, faceless, dead assistant. My name is Jeremy Lawren. I am twenty-seven years old and have a journalism degree from Georgia State University in Atlanta. I came to LA three years ago. A friend of mine who worked as a cameraman on Crystal Falls had invited me. He introduced me to Rob, who was looking for an assistant at the time. I was unemployed, and the thought of working on a television show seemed intriguing. Yep, looking back, I was quite naïve. I ended up as nothing but a chauffeur/courier/babysitter/clean-up boy. Long hours with crappy pay, spent at the bottom of the production totem pole. Rob was a jerk to work for, another truth you will only find here. 'Cause this is Hollywood, and you can't say those things out loud.
He was an incompetent jerk, might I add, always blaming his mistakes on others. He snapped under pressure and treated cast and crew with utter disrespect. My friend, the cameraman, eventually quit. I was debating whether to follow suit. Given the show's steadily declining ratings, I figured I'd better start looking around.
But I have to concede I had underestimated Rob. Say what you will about him, he was a shrewd businessman. We had to stay on-air to crank out just enough shows to land that all-important syndication deal. And after weeks in a ratings slump, Rob walked in one day and announced a contest he had dreamed up to generate publicity: SO YOU THINK YOUR LIFE IS A SOAP OPERA? While other shows were offering walk-on parts, our contestants were vying for a chance to have a character shaped after them. Plus, there was the small matter of two hundred grand in cash. A nice little incentive to share your pain.
Before you ask, yes, I was adequately warned about the dangers. And if I end up dead…that moron, you might think. Why did he agree to live with the four prime suspects? Maybe that's the journalist in me. Embedded with the enemy troops. But in truth, my motives were far less admirable. It was guilt driving me. One of my contestants had murdered Rob. I had willingly invited the murderer. It was a hard thing to take. Out of all the entries, I had selected these four. Could I have known? That's the question I've been asking myself. I remember selecting Corinne, the girl who had spent her entire life below the poverty line. She was pretty. Her piercing blue eyes struck me, and I selected her based solely on her looks. Call me shallow. But then I realized she would have that same effect on Rob. Yep, she was exactly what he was looking for when he launched that stupid contest.
---