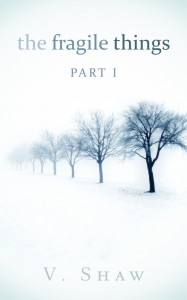 Just in time for Halloween, we have a sneak peek from The Fragile Things (Part I), the horror novel by V. Shaw.
At seventeen, Jennifer should have the world at her feet. Instead, she's an ex-heroin addict living with her boyfriend and former dealer. Shunned by her family, she dreams of something greater than she's been given.
Ebony has moved in across the street. She's just lost the one person in her existence to cancer. She's also a centuries-old vampire, struggling to cope with murderous outbursts and the desire to be something more.
When these two lost souls meet, an unusual friendship begins. The Fragile Things is a horror serial about friendship, hope, survival, and what it truly means to be human.
The Fragile Things (Part I)  is available through Amazon.com and Amazon UK.
Here is an excerpt from The Fragile Things (Part I)…