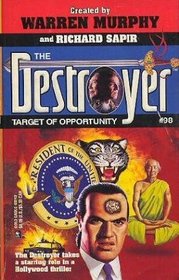 Attention Destroyer fans! Warren Murphy is publishing a second anthology of fan-written short stories and artwork. Stories can be serious or funny, must be Destroyer-themed (although they don't have to feature any of the main characters), PG-13, and limited to 7500 words. Please send submissions and questions about artwork specs to [email protected].
Prizes: Publication in anthology
Entry fee: Nothing. Zero. Nada.
Deadline is December 31, 2013. For more information, please visit their website.
---
Indies Unlimited is pleased to provide this contest information for the convenience of our readers. We do not, however, endorse this or any contest/competition. Entrants should always research a competition prior to entering.