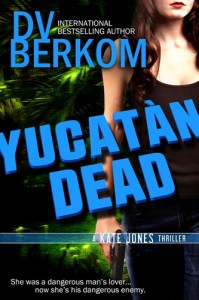 Today we have a sneak peek from Yucatán Dead,
the action/adventure thriller by DV Berkom.
For Kate Jones, being on the run from her former lover was never going to be easy. But with a new identity and a new life in Arizona, she was beginning to believe she'd made it through the worst. Then, in an act of twisted revenge, Kate's kidnapped by the ruthless cartel boss, his intention to force her to pay back the money she stole before he kills her. Fate intervenes and she finds herself working against the cartels deep in the Yucatan, allied with a group of commandos. Kate must now decide for herself if she'll continue to run… …or turn and fight the evil that pursues her.
This book is available from Amazon, Barnes & Noble, and Smashwords.
Here is an excerpt from Yucatán Dead…