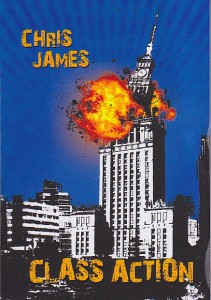 Class Action tells the story of young litigator Alek Moreyl, who unexpectedly has to win a unique and important case. After tense courtroom hearings, disaster strikes the city, and Alek is almost killed. He finds evidence of a global conspiracy, of which the case is a small part, and is unwittingly sucked into a frightening world of terrorism. As international tensions rise, Alek must reveal the truth to try and prevent the next European war, but powerful states will do everything to stop him.
This month, if you can identify the music in this video, you can win an autographed paperback copy of Class Action. Find out how here.
Class Action, the suspense novel by author Chris James, is available from Amazon, Smashwords, and Amazon UK.

Don't forget, you can cast your vote for trailer of the month on October 26, 2013 at 5 p.m. Pacific time.