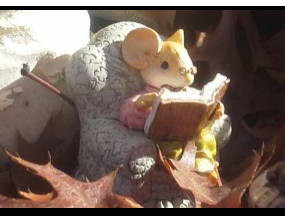 Meet Kathy Ree, founder of the book blog, Kitty Muse and Me. She is a resident of the Pacific Northwest, but was  born and raised in California. Kathy has been married for 27 years, and has a 24-year-old son, a 21-year-old daughter, and a very large cat. Kathy says the cat sits on her writing so she can't get anything done. Thus the "Kitty Muse" title.
Kathy is also an author, reviewer and editor. She just accepted an internship with her publisher, Mountain Springs House.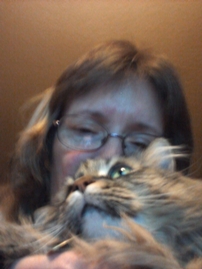 Kathy, what got you interested in blogging about books?
I did one on Amazon for a book I thought was exceptionally good (it was called "Worst.Vampire.Ever"), and noticed on Facebook that a lot of people were doing the same. So I thought I'd try my hand at it, and I really enjoy it. I also found that it's a good way to get my writing efforts out there for all the world to see.
Tell us all about your book blog.
That's a lot of "abouts". I've been blogging for almost a year, doing mostly book reviews. I was doing author interviews for a number of months too, but got too busy to keep at it. I will read and review almost everything—except romance, poetry, and textbooks. I have not had anyone else blog for me, but I have contributed some to other blogs.
How do you select and/or prioritize the books you read?
Usually by date requested, although some are really short, and I can get them read and reviewed between larger ones. It's not unusual for me to read three or four books at a time. I'm glad my Kindle has bookmarking ability, so I can go back and find the info I thought was important when I was reading.
How deep is your TBR pile?
Yikes—I just finished all the requests from last January. Thankfully the number of people who have contacted me about reviews has gone down a lot. I'm supposed to launch my own book and one I've co-authored this month, and I don't know where I'd get the time to do more.
Tell us about the rating/scoring system you use:
If I can't give it a five-star, I send it back to the author and respectfully request that they find someone else to review it. I refuse to say anything derogatory about anyone in my reviews. Grammar and spelling issues are things I take up with the author privately—those do not belong in a review.
Have you ever been pleasantly surprised by a book you thought you wouldn't like?
Since I don't read anyone else's reviews, I go by what the author has written in the blurb or Facebook post. Pleasantly surprised? No, not really. I only take on the ones that sound like I would enjoy them.
Have you ever been disappointed in a book you thought you'd love?
Yes—and that is because of things that should have been caught at first pass by an editor. I am a grammar freak, and misspellings/grammar errors/sentence structure problems are things that stand out like a sore thumb to me. Makes my eye twitch…
What are the most common mistakes that you see authors making?
Biggest ones are: changing tenses mid-paragraph; use of the wrong tense; no story flow; headhopping (great, gaping holes in the story that the author expects the reader will just understand somehow); and using the wrong word ("rain" for "rein" or "reign", etc.).
Would you say you more often find yourself loving a book it seems everyone hates, or hating a book everyone else is raving about?
If someone is raving about a book, or a place, or whatever, I generally stay away from it. I steer my own boat, thank you. There are classics that my high school teachers imposed upon me, and I can say without a doubt that I hated 90% of them.
What can authors do to ensure a good relationship with book bloggers?
If someone is taking the time to blog about your book, or doing a review, answer any questions they may have right away, give an opinion about how you felt the blog went, and thank the blogger for their time. I know that quick communication is necessary, because I have at least 60 more books in the queue, and when someone doesn't answer a question, he or she can get passed over for the next book in line.
If you read a book you think is just terrible, how do you handle that?
I tell the author privately, but of course I try to be very diplomatic about it. The first thing I will do is ask about the particular thing that is bothering me—perhaps I am misinterpreting? Perhaps I received an ARC of the book rather than the edited final one? Many things can cause a book or manuscript to be misunderstood—sometimes merely asking questions for clarification can get around the problem—perhaps even improve the manuscript and make it more polished. I try not to give up.
What was your worst experience with an author?
I haven't had any at all. Diplomacy is the key.
Kathy, thanks for a great interview. I hope everyone will click over and check out Kathy's blog, Kitty Muse and Me.