As authorpreneurs, I think one of the major challenges we face is finding our audience. I know I had a heck of a time figuring out my target demographic when I started writing the Kate Jones Thriller Series. Who was I aiming at…er, I mean for? Who did I think would enjoy reading about a woman who made a huge mistake in her 20s and has been on the run ever since? With guns. And explosives. And really bad guys chasing her?
Did I mention guns?
I couldn't really market them as romances, although there's certainly some of that in the books. I toyed with the mystery moniker, but that didn't fit either. So, I settled on thriller and action/adventure. But when I looked at the types of books in the thriller genre, I realized my character wasn't your typical stoic, quiet-but-lethal dude. In fact, Kate's got some issues and isn't real quiet about them. My other character, Leine Basso, is more along the stoic and lethal lines. Both have boatloads of courage, though, and the storylines are fast-paced and action-packed, which can be found in most thrillers.
Enter Yasiv. I just ran across this site the other day and I'm still playing with it, but I think it's going to help quite a bit in identifying the demographic for my books. Rather than guess what my target audience might be, Yasiv gives you a visual rendering of the actual connections to a specific product on Amazon—in this case, your book.
Also, it's interactive and all shiny an' stuff.
Anyway, to get started, go to Yasiv.com and enter the title of one of your books (your author name works, too). I used Bad Spirits, the first novella in the series: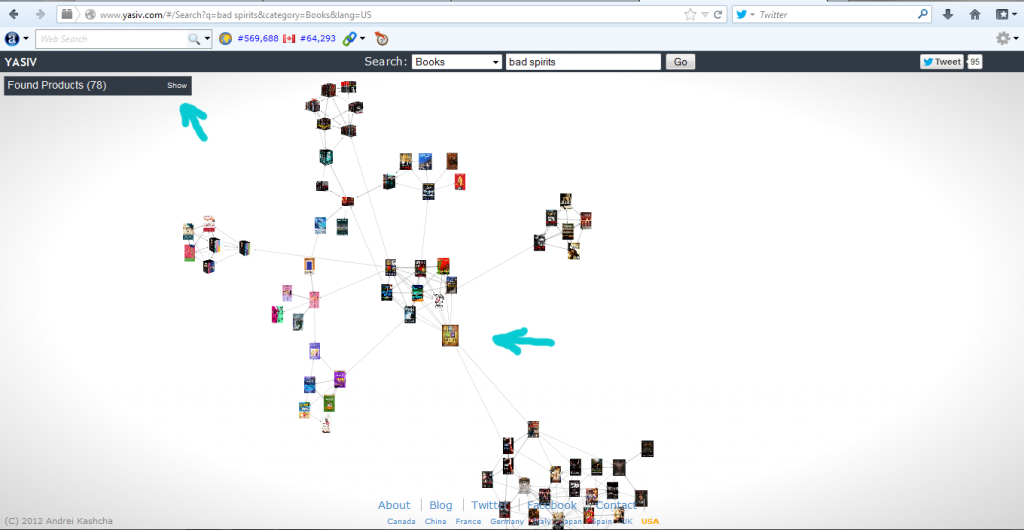 I've pulled back on the visual in order to give you more of an overview of which books have connections to the one I chose (the titles that appear correspond to the "also-bots" on each book's page). Hopefully, other titles in your series are linked closest to the book you're researching. If not, then readers are finding books besides yours to purchase, and you don't want that. Here's a closer look at the same screen, except I've opened the drop-down menu in the upper left-hand corner which displays a list of the book titles found in the search: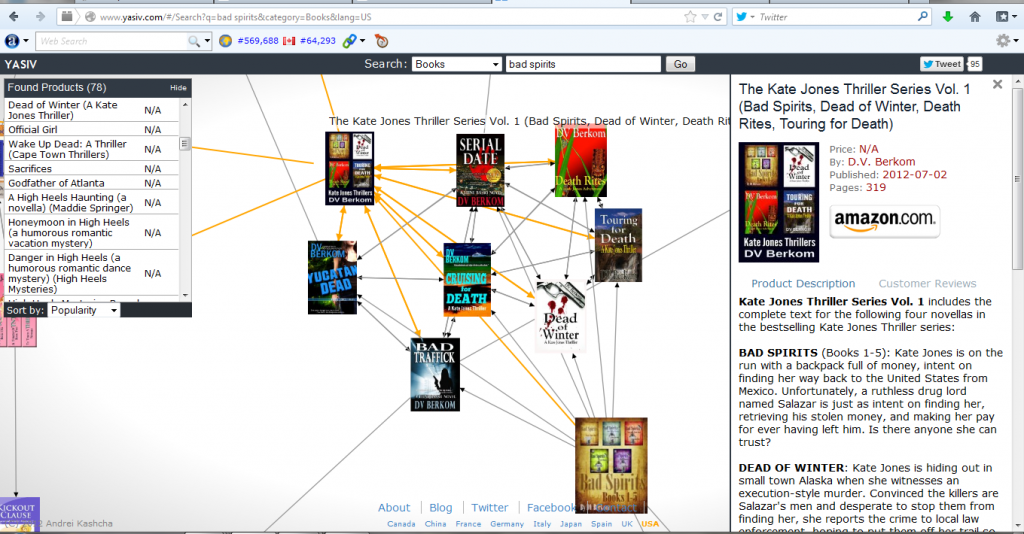 I clicked on The Kate Jones Boxed Set book cover and the book opened in a window to the right with a description (this can be done with any of the books that appear in the visual). Connections from that book to others show up as orange lines. Oooh. Pretty. Double-click on any of the titles to build a whole new network revolving around that title. I learned that along with mystery and thriller readers, urban fiction and humorous romantic mystery readers have been buying/downloading my books. Quite the spread, there. Who knew?
Notice, too, that on the bottom of the screen there are other countries you can search to find out what readers are buying along with your titles. Trés cool! I could probably spend a whole bunch of time on this site doing "research." Then again, I'm easily amused.
That concludes my (extremely short) tutorial on Yasiv. As soon as I figure out how to get my books in front of all those urban fiction and romantic mystery readers, I'll let ya know…