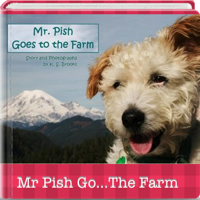 It's been an exciting few months for me. I've been working with a developer to convert three Mr. Pish books into apps for kids. Sound cool? Indeed. Sound scary? More like.
One has to realize that I don't even own a smartphone. My phone is so old and so dumb that its IQ is envious of the 31 on the Baskin Robbins' ice cream sign. What's my point? The learning curve – more like hurdle – over a huge chasm of technology and a completely different way of thinking. Anyone have a six-year-old who can help me out with this?
First came the contract. I looked it over closely, then had two smart friends take a gander. (I can't afford a lawyer anymore, but since I played one on TV, I figure I'm okay.) Then, I asked a developer friend to check out the company. He did a thorough investigation and came back impressed. So, I proceeded. Coincidentally, and happily, I signed the contract on my 50th birthday. Pretty cool.
Then came the hard work. I loved that the developer said "just upload the book and we'll make the game." I especially got a kick out of the word just. Just? The book is 8×10 – a vertical orientation. App images have to be an exact size – and these are landscape mode. That meant even to "just upload the book" I'd have to completely redesign each page to upload to them. So, instead of doing that, why not rewrite the entire thing to make it a companion app to complement the book? This way, people who have the book will want the app; and people who buy the app will want the book. There will be minimal content overlap: just enough to create a sense of familiarity and recognition for kids between the two platforms. That way, everyone would benefit. Of course, none of this had anything to do with the fact that I'm a complete control freak.
I got to it. Being of the PC world and never having used a smartphone, iPhone, or touch screen pad-type contraption, I was banging my head a bit. My contact at the developer didn't realize her most basic knowledge wasn't being shared with me no matter how many times I asked or rephrased my questions. That was greatly frustrating. Their written instructions were skeletal at best, and the sample games/apps I looked at didn't really help. That was when I decided to look at it like a six-year-old. I just had to find one.
Don't ask me how I figured it out. I honestly don't recall. But I did, and I worked for just about a week straight creating a bunch of fun, educational, and interactive "pages" for kids, along with a script for the narrator. Then I sent it off. I knew it would take about three weeks for it to end up in distribution – and I really, really wanted it to be available by Black Friday.
Two weeks later, I received back a link to a demo of the game. I felt like I was a kid at Disney on the Mr. Pish Goes to the Farm ride. It was magic. I cringed at having to inform them two minor changes needed to be made. My fingers and pretty much everything else are crossed that it won't hold up release – Black Friday is next week.
Recreating Mr. Pish Goes to the Farm as an app was a lot of work, but I realize the even harder work is yet to come; how, exactly does one market an app? I added a new section to Mr. Pish's website for apps. I even got screen shots and put up a page with a "sneak peek" into the app. I made a book…I mean app video trailer. App video trailer? Is there even such a thing? Well, if there wasn't, I guess there is now.
I had to completely change my thinking in order to create the app. Now I need to completely change my thinking to market it. According to this graphic, 5.0 billion people purchased apps in 2012. FIVE BILLION! I don't expect that by any means, but it sure would be nice to know what I need to do to get the app in front of … appers? Here at Indies Unlimited, the benevolent Martin Crosbie shares his list of promo sites for eBooks. Is there an equivalent list somewhere in the webiverse for apps?
I can see that just because the app is done doesn't mean my journey is over. It's just like writing and publishing a book, but completely different. I would love to hear from app users and creators as to how they find and market their apps. Hopefully, if I can do this properly, Mr. Pish's legacy of outdoor learning and literacy will be discovered by a whole new audience.