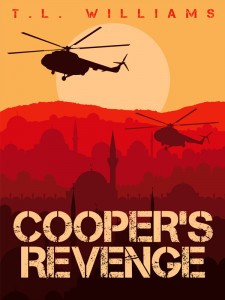 Today we have a sneak peek from Cooper's Revenge, the suspense novel by T. L. Williams.
Logan Alexander is a man on a mission. When the young Navy SEAL learns that his younger brother, Cooper, has been killed in an IED attack in Iraq at the hands of Iran's Islamic Revolutionary Guard Corps, he vows to avenge his death.
Logan plans a covert operation that takes him and a Special Operations team deep into enemy territory where they come face to face with Qods Force Colonel, Barzin Ghabel, who trained and equipped the foreign fighters responsible for Cooper's death.
Cooper's Revenge won a 2013 Florida Authors and Publishers Association President's Award for Mystery/Suspense writing.
Cooper's Revenge is available at Amazon.com and Amazon UK.

Here is an except from Cooper's Revenge…
Seal Team 8's objective was Wesh, a village of 10,000 located five miles south of Spin Boldak. The three-man Desert Patrol Vehicles they drove are capable of moving out, with top speeds of eighty miles an hour. The DPVs have a range of about 210 miles, but with an extra fuel bladder attached, that can be extended to over a thousand miles. The road from Spin Boldak to Wesh can best be described as third world. It is a single lane, with a mixed gravel and asphalt surface and is poorly maintained.
Logan leaned forward and spoke to his driver on the tactical radio. "Jake, keep an eye out. Major Campbell pulled me aside before we left and said he had forgotten to mention that there's a lot of run-off through this area, and at last count there were something like forty collapsed culverts on this road between Spin Boldak and Wesh. We don't want to be driving into any of those tonight."
"Roger that, sir."
Logan keyed his radio and passed the same information on to the other vehicles. He shivered in the night air. Spin Boldak was situated at an elevation of 4,000 feet, and after sunset it cooled off pretty fast. Or was it the sense of foreboding, that hair standing up on the back of the neck feeling he always experienced just before going out on patrol? From what the J-2 had said, the Taliban was definitely trying to make a comeback, and they'd had some success too. That would just embolden them. Well, bring it on.
Logan fingered the 50-caliber M-2 Browning machine gun mounted to the DPV and scanned their approach to Wesh. They were carrying some pretty heavy firepower: M-60 machine guns, 40 mm MK-19 grenade launchers, and AT-4 anti-armor weapons. He squinted at his watch and could just barely make out that it was going on ten o'clock. There hadn't been any traffic on the road, and it had been quiet, except for the howling of a couple of mongrel strays they had just passed.
Up ahead he could see the glow from a spotlight shining onto the road. We must be coming into Wesh, he thought. A platoon of Royal Canadian Dragoons had been attacked in this village two weeks ago. The assault had taken place in broad daylight on the fringes of the village bazaar. The Dragoons had managed to retreat, shooting their way out of it without losing anybody. A couple of their men had sustained non-life-threatening injuries in the skirmish.
Logan nudged Jake as they approached a dusty cemetery on the outskirts of Wesh. "Let's go left past the cemetery, Jake. I want to check the southern perimeter of the village, without driving right through the middle of town. The Taliban's supposed to be holed up south of here, according to reporting the major shared with us."
---