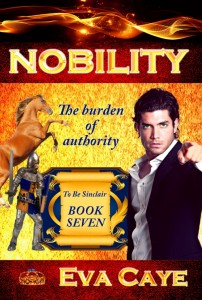 Today we have a sneak peek from the science fiction novel by Eva Caye: Nobility.
Prince Matthieu is the near-perfect Heir Second, a tremendous support to his grandparents the Emperor and Empress, but his abandonment issues, secret missions, and need for an intelligent lady strong enough to be his future Empress stifle his love life. How can he find a lady who will support him mind, body, and spirit?
And when turmoils arise over the Attican Reparations Project, will his multitude of skills help him overcome devastating loss? From lessons in authority and responsibility to taking on covert operations, how will he survive the death of his greatest role model?
Nobility (To Be Sinclair Series) is available from Amazon.com and Amazon UK.
Here is an excerpt from Nobility…