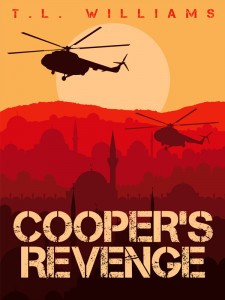 Today we have a sneak peek from Cooper's Revenge, the suspense novel by T. L. Williams.
Logan Alexander is a man on a mission. When the young Navy SEAL learns that his younger brother, Cooper, has been killed in an IED attack in Iraq at the hands of Iran's Islamic Revolutionary Guard Corps, he vows to avenge his death.
Logan plans a covert operation that takes him and a Special Operations team deep into enemy territory where they come face to face with Qods Force Colonel, Barzin Ghabel, who trained and equipped the foreign fighters responsible for Cooper's death.
Cooper's Revenge won a 2013 Florida Authors and Publishers Association President's Award for Mystery/Suspense writing.
Cooper's Revenge is available at Amazon.com and Amazon UK.

Here is an except from Cooper's Revenge…