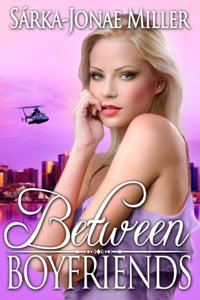 Between Boyfriends
by Sarka-Jonae Miller
Genre: Chick Lit/ New Adult
Word count: 104,000
At first glance, twenty-one-year-old Jan Weston has it all: a gorgeous boyfriend, fun friends, and wealthy parents who take care of all those pesky credit card bills.
Then her boyfriend dumps her, her friendships fall apart, and her parents cut her off. Suddenly without money, without a man, and without a plan, it's time for Jan to grow up.
Determined to get her life back on track, Jan decides it's time to make it on her own. Can she find her way as a single lady in San Diego? Can she fix her friendships, her job prospects, and her hair? And can she keep her vow that she'll never date again, even after she meets a guy who just might be perfect for her?
BETWEEN BOYFRIENDS is a sexy, hilarious story of living life, finding love, and growing up… but not necessarily in that order.
This book is available from Amazon and Barnes & Noble. Continue reading "Book Brief: Between Boyfriends"