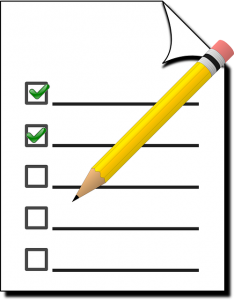 A little while back, I attended a class offered in conjunction with the Miami Book Fair International led by Amy Rennert. Her literary agency, The Amy Rennert Agency, includes authors such as Herman Wouk, Jimmy Buffett, and dozens of other New York Times and national bestsellers. Throughout the two days, I developed a list of the top ten mistakes writers make that will assure that your decline letter goes out by page five.
In no particular order, here is my list.
1. Repeats – Most authors have a crutch word that shows up too many times in their writing. I know that I do. Take a look at your manuscript and hit the "Find" button to clean up your repetitive favorites.
2. Flat Writing – This is a duh! However, sometimes we need to get from point A to point B and get lazy. Challenge yourself to clean up those sections before you send it out for editing. Your editor will love you for it, and you'll probably save some money, too!
3. Empty Adverbs – Keep it clean and drop the adverbs. It's tough, sometimes we think that it HAS to have an adverb to reflect your true meaning. Forget it, think, "Precise and spare," and double-check your dialogue, because that is where we tend to get a little looser.
4. Phony Dialogue – Avoid having characters talk about things they already know, and please don't have them talk for our benefit. Unless of course you're Tim Dorsey and you need Coleman to ask Serge, "Now what are you doing again?" because the plans that Serge comes up with are pure genius. If you don't know what I'm talking about, go Google Tim Dorsey and you'll laugh your you-know-what off reading his books.
5. No-good Suffixes – Here are a few to stay away from … "ness" words like mindlessness, courageousness … ugh! Also, the "ize" words like finalize, conceptualize, etc. They're not all bad, it just causes your eye to stumble, come back, and reread.
6. Lists – If you're going to describe a number of items, lay out the scene as the character sees it, adding emphasis and emotion in unlikely places.
7. Show, Don't Tell – This one has been beaten down enough. However, it is still worth saying again. To keep the concept fresh, think about it this way … the difference between telling and showing typically ends up at the physical senses. Visual, aural, and aromatic words deliver us into the scene.
8. Less is More – Chop, chop, and chop some more. Stephen King recommends about 20% should disappear during the first revision—as we said in number three, "Precise and Spare."
9. Commas – They serve a purpose. No matter what you hear in your head when you've just completed an action scene, omitting commas does not make the narrative sound breathless and racy.
10. "To Be" Words – I know, this is getting basic. However, you would be surprised at how easy it is to fall back into this trap without knowing it. Conduct a word "Find" in your manuscripts and see how many times you use the "am, is, are, was, were, be, being, been" scapegoats. They will flatten your writing and slow your pace to a crawl. Replace them with active, vivid, and engaging verbs.
I know that much of this isn't new, but it's nice to hear what a big-time literary agency looks for when evaluating talent. Even the best writers make these mistakes; we can find them all over the place in New York Times bestsellers. The problem is, we can't afford to make these mistakes, they can. Don't be satisfied with mediocrity. Take the extra time to make it right.