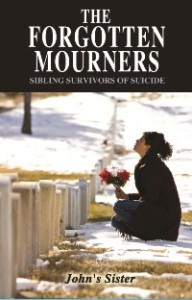 The Forgotten Mourners: Sibling Survivors of Suicide
by Magdaline DeSousa (pen name John's Sister)
Genre: Self-Help; Death and Grief
Word count: 30,255
This book is meant for anyone who has lost a brother or sister to suicide – the forgotten mourners – and those who want to provide them support. Any loss is difficult, but a loss to suicide is heightened because of the helplessness and confusion surrounding it.
A sibling loss to suicide is even more unique because the sibling(s) left behind are often forgotten – mourning the loss of their brother or sister alone in the shadows of their parents' grief. This book discusses some of the challenges sibling survivors of suicide will face, both individually and as a family unit, including:
What can I expect during the grieving process as a sibling survivor of suicide?
How can I set boundaries to take care of myself?
Will my relationship with my parents change?
How do I answer questions about my now-departed sibling?
Who am I without my sibling?
What can I do to get through the holidays and anniversaries?
How do I keep my brother or sister alive in my life, without him or her physically present?
These questions and more are answered directly from the author's experiences following the loss of her eighteen year-old brother to suicide in November 2001. Hopefully, her experiences will give sibling survivors of suicide strength, hope, and peace in navigating the long road to healing ahead.
This book is available from Amazon and Barnes & Noble.
How did you come up with the title for your book? Does it have any special meaning?
Sibling Survivors of Suicide are known as "Forgotten Mourners". In a death by suicide, the focus tends to be on the parents, who lost a child, rather than the sibling who lost a brother or sister. These "forgotten mourners" suffer in silence, left in the shadows of their parent's grief.
What was the hardest part of this book to write/research?
Chapter I – how I found out about my brother's death. I went step-by-step through the phone call that changed my life and the shock-filled moments that followed. Every word brought me back; every time I read it, I cried. It was cathartic and heart-wrenching at the same time.
Does your book have any underlying theme, message, or moral?
My primary message is that there is hope – you can find peace after the loss of a sibling, or loved one, to suicide. I share techniques that helped me heal during the past ten years and stories of my journey in finding peace after the loss of my brother.
What would/could a reader or reviewer say about this book that shows they "get" you as an author?
A quote on my Amazon page sums it up: "I lost my younger brother to suicide…he was my very best friend! It is hard to know what to do, what to think, or how to go on without him. This book showed me I am not alone in my loss."
Give us an excerpted quote from your favorite review of this book:
This book is invaluable for its brevity, wealth of information, and the emotional account of the author's experience.
Where can people learn more about your writing?
www.outskirtspress.com/theforgottenmourners