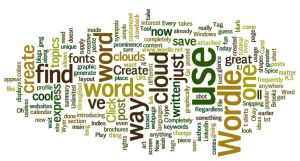 Every now and then, something comes along that is really cool. Completely useless, but cool. Today, I'm introducing you to one of those things—Wordle. You've all seen "Tag" clouds on just about every webpage. You can find one here on Indies Unlimited, just below the calendar. It takes keywords or tags and displays them in different fonts based on usage in posts throughout IU. At a glance, you can find topics of interest to you and find the most popular topics on the site.
At Wordle, you can create your own word clouds for any piece that you've written. You can find the word cloud created from this post attached above. Spice up any post you've written with your own customized "Word" cloud.
Your Wordle will generate a unique "word cloud," giving greater prominence to words that appear more frequently. Once you create your Wordle, you can use it any way you like. You own the rights to the graphic and you can use it for anything—blogs, websites, brochures … even t-shirts. You don't even have to sign in, register, or give any info to use this FREE site.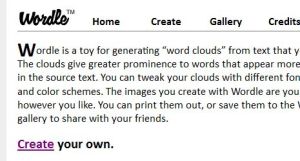 It's simple to use. Click the "Create your own" link on the www.wordle.net/ main page. From there, just paste any text that you wish to use, or you can supply a URL. Click "Go" and you're done. You can change colors, shapes, fonts, languages, and the layout until you have the look you want.
The one drawback: you can't save it as a file. You'll need to take a screen shot or use the "Snipping Tool" found in Windows. Here's a tutorial on how to do that posted earlier by K.S. Brooks or Carol Wyer. Once you save it as a jpeg, you can place it anywhere.
Now you have a way to express yourself through words. Oh wait, we're authors, I guess we already do that. Okay, now you have a way to graphically express your words through art.
Play around with this and I'm sure you'll come up with some great ideas of how you can use it. I made one from the summary section of my LinkedIn profile. Create a Wordle with the synopsis of your book or your blurb. The great thing is, it doesn't matter how long or short your content is, you can create any type of word cloud.
Regardless how you use it, it's a lot of fun and allows you to get creative with your words in a completely new way.