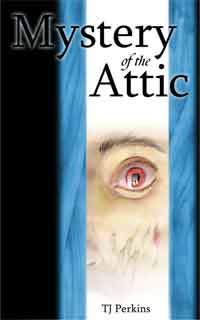 Mystery of the Attic
by TJ Perkins
Genre of this Book: YA mystery
116 pages
Melissa is just an average thirteen-year-old with a semi-average life until she moves into a ninetheenth-century farmhouse.
There she discovers that the house is haunted by two ghosts – one good and one evil. With the help of her stepsister, they unravel an age-old mystery and solve an unsolvable crime; one that was never intended to be solved. Many evil hauntings attempt to prevent the girls from discovering the truth. It's a race against time and a battle of wits to see which will prevail – the living or the dead.
This book is available from Amazon, Smashwords, and Amazon UK.
TJ, how did you come up with the title for your book? Does it have any special meaning? 
I chose the title because the situation was actually, in reality, a mystery and involved the attic of the house I lived in at the time. This story is based on a portion of my life, it's 80% true.
Who was your favorite character and why?
The spirit of Josh was my favorite because he was brave and fought for what was right.
Does your book have any underlying theme, message, or moral?
This book is about sticking together and believing in each other.
What would/could a reader or reviewer say about this book that shows they "get" you as an author?
Parents have said that even their picky son/daughter started reading the book and couldn't put it down.
Give us an excerpted quote from your favorite review of this book: 
This book was fantastic not only for children but for all ages. It is gripping, suspenseful and doesn't need to rely heavily on violence or graphic imagery to convey its more than adequate fright factor. It's cute and to the point, not bothering with overtly flowery prose and keeps you glued until the last word. I must say however that the ending left me wanting a sequel. I highly suggest this if you like a good, light mystery.
Where can people learn more about your writing?  http://everythingmysteryya.blogspot.com/