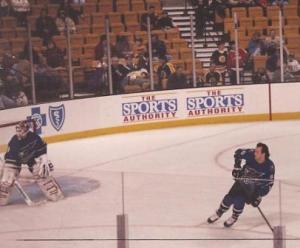 I wasn't there to watch the game, but that's what I was doing. I was sidelined with an ankle injury that made me miss my first game in six straight seasons.
I don't like to think of myself as the kind of guy who wants others to fail, but I found my stomach turning every time the rookie goalie replacing me made a save. He was good, and that was bad for me.
I was starting to think about life after hockey. While I was daydreaming about endorsement deals and my own restaurant franchise, a fight broke out on the ice…
In 250 words or less, tell us a story incorporating the elements in the picture. The 250 word limit will be strictly enforced.
Please keep language and subject matter to a PG-13 level.
Use the comment section below to submit your entry. Entries will be accepted until Tuesday at 5:00 PM Pacific Time.
On Wednesday afternoon, we will open voting to the public with an online poll for the best writing entry accompanying the photo. Voting will be open until 5:00 PM Thursday.
On Friday afternoon, the winner will be recognized as we post the winning entry along with the picture as a feature. Then, at year end, the winners will be featured in an anthology like this one. Best of luck to you all in your writing!
Entries only in the comment section. Other comments will be deleted. See HERE for additional information and terms.