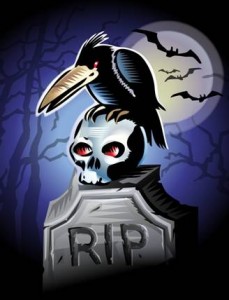 The road to success is paved with the bones of failure. We try to keep things fresh here at Indies Unlimited by introducing new types of features from time to time.
Not all of these features catch on. Some do well at first, but sort of fizzle out as they go along. That's the thing about innovation – you never know what's going to work until you try it. Who would have guessed that putting sleeves on a blanket would make somebody a bazillionaire?
In the mean time, the makers of Jello have rejected all my ideas for meat and vegetable flavored gelatin. Come on! Who wouldn't rather have their Brussels sprouts in a jiggly form served up in a dessert cup? Think, people! But, I digress…
Never discouraged, I have brought that same spirit of innovation and enterprise to Indies Unlimited. Sometimes my blog partner, K. S. "Kat" Brooks, is a bit more cautious.  She did, in fact, talk me out of "Indie Author Death Match." Otherwise, we do tend agree on most everything else. But, as my father used to say, you can't make an omelet without cracking a few heads. Not everything worked:
Meet the Author
This was a magazine style feature we started when the blog first began. Authors loved these interviews, but they did not generate much in the way of traffic. With rare exception, you could usually hear crickets chirping when one of these went up. Our interpretation is that the people who are interested in interviews fall primarily into one of two cohorts: The author being interviewed and people who are interested in some author besides the one being interviewed.
Trading Post
This idea was born out of the idea that there are lots of indies out there who have differing skill sets and who'd be willing to exchange services with another author. For example, someone who is pretty good at designing covers might trade a cover for some editing services with someone who has some proficiency in that. Meh. That didn't work out so well as a feature here. It seems most people get these trades sorted out in other ways.
Book Blogger Saturdays
The idea behind these posts was to bring forward some folks who run book blogs, get them some new followers, and provide authors with another venue for exposure or reviews. Though there were some few successes from this feature, participation by the book bloggers dried up very quickly.
Story Time
This was an opportunity for authors to showcase a short story. The hope was that it would draw attention to the authors' work and increase readership. It did not. Participation was very low, as were views.
Frankenstein
This is a sort of writer's game that we adapted from Book Junkies. In the game, IU would provide the first sentence of a story and the first commenter would write the next line. The next commenter would write another line, and the end result would be a wild, fun story we cobbled together. It worked better on Facebook than on the blog. Part of the reason for this is logistical. Facebook comments don't go into moderation, so the game is much faster-moving there than on a blog.
Sneak Peeks
This feature was intended to showcase a book excerpt of around 500 words. For this kind of feature, you'd want a passage that is not available in the "look inside" at Amazon, and something that really grabs a reader's attention, leaving off just as it whets their appetite for more. Strangely, a lot of authors seem to have trouble identifying such a passage. Numerous submissions offered nothing more than was in the preview already available to readers, others included passages that might have been suspenseful or interesting in the context of the whole story, but were less than riveting as an excerpt.
Anthems for Authors
This was a little feature that included a music video of music about writing or that spoke to us about the writer's life. With the number of authors who indicate they like to write to music, we'd have thought we'd get a lot of great suggestions for more songs to feature. We did not.
Freebie Fridays
As Amazon's changing algorithms diminished the impact of freebies, fewer authors were as anxious to participate in this feature. We spliced Freebie Friday into Thrifty Thursday and results have been better.
Several other experimental posts were dropped because they went off the rails. This happens when people do not read the instructions in the post, or do not read the article or tutorial which was the genesis of the post. Book Hook, Block Party, Review Shares are all examples of something at the intersection of confusion and indifference.
To be fair, some ideas never make it to the page. Somebody keeps suggesting a "Women of Indies Unlimited" calendar. That one never makes it out of the staff meetings. (ahem)
Anyway, we learn something from each effort, whether it meets with success or failure. This is also true for writing and for life in general. We are all the better for having tried and in the whole scheme of things, have far more successes than failures. Thanks for helping us sort it out.