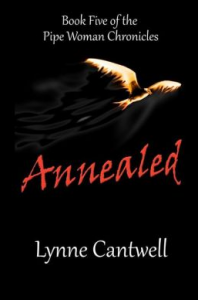 Annealed: Book Five of the Pipe Woman Chronicles
by Lynne Cantwell
Genre of this Book: urban fantasy/paranormal romance
Word count: 56,856
It's zero hour…
Naomi has just two weeks to find a new home for Joseph's grandfather. The old Ute shaman is fighting for his life against a mysterious injection of toxin he received at the hands of the Norse Trickster god Loki. If Naomi is to defeat Loki once and for all, she must learn what it is he seeks under the old man's wickiup.
She has just one week before she must mediate between the Earth's pagan gods and goddesses and the Christian God. If her efforts fail, all of humankind will suffer the consequences.
And her baby is due any day.
In this, the fifth and final book of the Pipe Woman Chronicles, Naomi is in a race against the clock to balance the demands of her body, her family, and her friends – and she must do it while the whole world is watching.
This book is available from Amazon, Smashwords, and Barnes & Noble.
Lynne, how did you come up with the title for your book? Does it have any special meaning?
"Annealed" means to be tempered by fire, and Naomi has gone through a fair amount of tempering in this series. The word has overtones of resolution for me, and a lot of stuff gets wrapped up in this final book – including the Big Mediation among God and the pagan gods.
Who was your favorite character and why?
Naomi, because of all she's been through and all she continues to go through in this book, and she does it without going crazy. Although I also got to write Jehovah into a few scenes – that was a lot of fun, too.
Does your book have any underlying theme, message, or moral?
I really do believe that we're all connected, and that marginalizing certain people makes the world worse for all of us. That's the message I hope readers take away from this book – from the whole series, really.
What would/could a reader or reviewer say about this book that shows they "get" you as an author?
I love it when readers tell me, as a number of them have, that they'd like to live in the world I've created. So would I!
Give us an excerpted quote from your favorite review of this book:
The implications of this story will live with me for a long time. Bravo, Ms. Cantwell.
Where can people learn more about your writing?
http://hearth-myth.blogspot.com