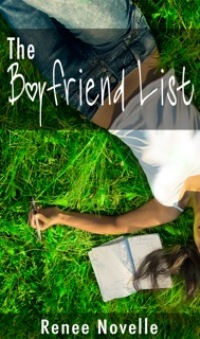 The Boyfriend List
by Renee' Novelle
Genre: New Adult, Contemporary Romance
Word count: 57,000
Book #1 in the Boyfriend Books Series. The Boyfriend List follows twenty-year-old Reagan in her quest for the perfect relationship after a somewhat tragic spring break breakup leaves her disillusioned about love… again.
Reagan had always prided herself on making levelheaded, practical, analytical decisions about everything. Everything, that is, except where guys are concerned. Which was proven to her, once again, when her "boyfriend" opts to take another girl on their oh-so-romantic trip to his lake house. In order to prevent future heartbreak, she creates a checklist of all the qualities she wants in a man, and vows not to give her heart away again until she can determine if they fit every last criteria.
After scouring campus with her two best friends in her tricky journey, her detective work returns a pile of unworthy rejects, and it seems as though her choices are narrowed down to only two options: the hot stranger who's inspired her new project, and her best guy friend Ian, who she's always kept at bay due to his perceived playboy reputation.
Reagan gets more than she bargained for with her new set of rules, however, and is surprised to find that love, and the perfect boyfriend, may have been within reach the entire time. But will Ian's reputation ruin his chances to prove his worth? And can Reagan let go of her insecurities long enough to even give him a chance?
This book is available from Amazon, Barnes& Noble, and Smashwords. Continue reading "Book Brief: The Boyfriend List"