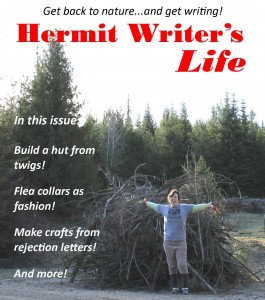 What could possibly be better than Spring time in hermit land? Sure, the rain pours in through the gaps in your moss roof, but you're a writer – and you're living the Hermit Writer's Life.
In the April edition of Hermit Writer's Life Magazine, you'll find all sorts of innovative articles to help you think outside the box you're living in and optimize your situation.
Our staff of successful and experienced hermit authors will provide you with the tools you need to:
Reinforce your roof with plastic bags and rejection letters
Keep bears out of your food supply
Smuggle liquid soap out of rest area bathrooms
Turn wildflowers into a pretty salad
Receive royalty payments without a bank account
And much, much more.
And of course, we always have articles for newbies who want to throw it all away, move to the woods, and write full-time. Don't put off that move any longer! Follow your dream now! Subscribe to Hermit Writer's Life Magazine today, and as a bonus we'll send you the Wilderness Weight Loss Guide for free! (additional shipping and handling charges apply.)