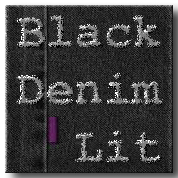 Black Denim Lit welcomes new and established writers for online and print literary journal. Fiction up to 7,500 words that has unique, lasting artistic merit, will consider novelettes up to 17,500 words on a case by case basis, and some genre work. Writer-focused, personal feedback and fast response. Why "Black Denim"…? It's understated and unpretentious, typifying the tone of style that appeals: grounded, approachable and unassuming.
Entry Fee: NONE
Deadline: Monthly deadlines, see website for more info.
Prizes: Offers token payment.
Visit the website for more information.
---
Indies Unlimited is pleased to provide this information as a public service. We are not affiliated with, nor do we endorse any specific events, conferences, workshops, or programs. Persons interested in participating are responsible for performing their own due diligence and research.