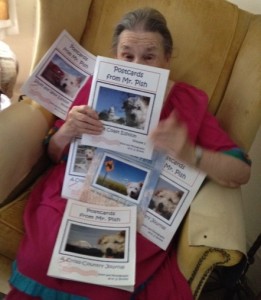 In celebration of the birthday of our illustrious mascot, the traveling terrier known as Mr. Pish, we're going to continue with the dog theme tonight. Mr. Pish promotes outdoor learning and literacy, so this would be something he'd be a fan of. Well, as long as biscuits were involved!
In the comments below, please tell us about your favorite book with a canine main character. It can be fiction, nonfiction, or children's, as long as at least one dog plays a major part. Please do it as follows:
Title: Mr. Pish Goes to the Farm
Author: K. S. Brooks
Link: http://www.amazon.com/Mr-Pish-Goes-Farm-Educational-ebook/dp/B00DEIEZXS/
Why: Um, seriously? CUTEST. DOG. EVER. and fun book. (You can't use that reason. There can be only one cutest dog ever. 😉 )

If it's a Mr. Pish related book, you get brownie points. If you wrote a book about a dog, please don't list yourself. Do the honorable thing and pay a friend to do it.
We will turn the links into book cover images for you. Please don't try to do that yourself. And, if you don't see the book covers, please check your AdBlock settings. Thanks!