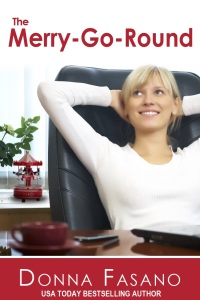 When Lauren steps off the merry-go-round called marriage, her life quickly turns into a three-ring circus: her hypochondriac father moves in, her ex is using her shower when she's not home, and her perky assistant is pushing her out into the fearsome dating world. Lauren also has to decide if the vintage merry-go-round she won in the divorce settlement is a blessing or a bane. And her professional life is filled with quirky law-breakers. What's a woman to do? She can allow life to spin her in circles forever — or she can reach out and grab the brass ring.
The Merry-Go-Round, the romantic comedy by USA Today Bestselling author Donna Fasano, is available from Amazon US, Amazon UK, and other online retailers.

Don't forget, you can cast your vote for trailer of the month on April 26, 2014 at 5 p.m. Pacific time.