Last month we covered personnel, customs & courtesies, and some drill. If you missed out on that post, you can find it here. This month we're going to cover combat uniforms. There's probably nothing more annoying (from a prior service standpoint) than reading a book where the author has obviously not taken the time to research the various uniforms the U.S. military has employed. Over the years, combat uniforms have changed. And the services have a multitude of clothing to suit just about every environment.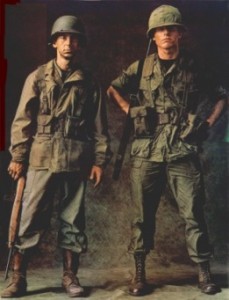 So, let's say you're interested in writing a Vietnam-era war novel. You know, something along the lines of Forrest Gump or Platoon. Most of your character's time will be spent in the bush. So what did they wear during combat? Combat forces (all branches) were outfitted in what was called "fatigues." They were simple OD (olive drab) uniforms that were intended to resemble foliage found in most temperate regions of the world. Soldiers would enhance their uniforms with dirt, soot, dust, mud, and sticks of foliage stuck here and there to help break up their outlines. These are the predecessors to what became BDUs (Battle Dress Uniforms). The OD duds were used in 3 wars until the BDUs replaced them.
During the Vietnam era, it should be noted that some Special Forces also employed unique "tiger stripe" variations of fatigues. These were very effective in the dense jungle.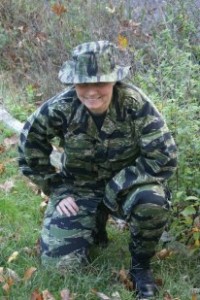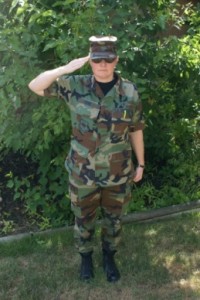 BDUs came about in the 1980s and saw service for 30+ years. In the 2000s, things got crazy when it came to utility or combat uniforms. All of a sudden, each branch felt this need to have their "own" special combat uniforms. The Air Force was the last to phase out BDUs. My cherished all-around utility uniform went the way of the dodo officially on 30 Sept 2011 (my retirement date!).
The Air Force replaced with Airmen's Battle Uniform (ABU; the Army replaced it with Army Combat Uniform (ACU) and then the MultiCam for deployments because the ACUs performed so badly in Afghanistan; the Marines went with the Marine Corps Combat Utility Uniform (MCCUU) which has various color patterns; the Navy replaced their dungarees with the Navy Working Uniform (NWU); and the Coast Guard opted for the Operational Dress Uniform (ODU). Each of these have their own pages on Wikipedia.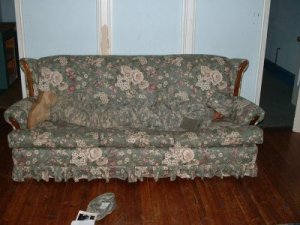 Now each branch has their distinctive look, and it hasn't taken long before some of them have realized their uniforms aren't doing the job. So there's an ongoing push to find the "perfect" camouflage that will work in all environments. Truthfully, unless they invent invisibility technology, the government will be hard pressed to find a single uniform that will match sea, sand, forest, and snow. Until then, the branches have to contend with whatever their respective higher-ups deem appropriate for wear in the field. Even if it only camouflages in an office environment! This famous photo (at left) made the rounds on all the military bases. At the time it was the Army's new ACUs and someone demonstrating how well they camouflage into a sofa.
Next month will be Part 3 – Dress Uniforms. I'll highlight uniforms the branches wear during formal situations.