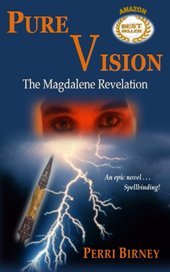 Pure Vision
by Perri Birney
Genres: Action/adventure, Thriller/Suspense
Available from Amazon
Investigative reporter Maggie Seline unearths a radical scheme by a sinister secret society that will topple the oil industry. Teaming up with Middle East scholar Michael Sonada, she races to Nepal to discover a long-held secret. Can their astonishing discovery harness the powerbrokers before it's too late?
Excerpt:
The ringing of the phone jarred Maggie from her thoughts. She walked over to the credenza and picked up the receiver.

"Hello."

"Have you opened your mail today, Ms. Seline?" The male voice on the other end spoke in a low whisper.

"Who is this?"

"Remember your father," the caller warned.

The line went dead.

Maggie laid down the phone, her pulse racing, and looked toward the picture still lying on her living room carpet. She had not been able to pick it up all this time, but the image left no doubt. Sprawled out on a dirty floor, a bullet hole in his forehead, her father lay in a pool of blood. After all these years, Maggie was now brought face-to-face with the stark truth.

David Seline had been assassinated.
What others are saying:
"Birney's fiction seamlessly blends science and religion into a tale worthy of Indiana Jones." – Daily Freeman