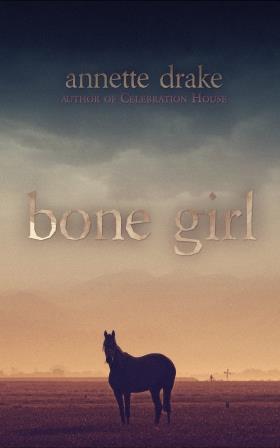 Bone Girl
by Annette Drake
Genre: Fiction – coming of age
Word count: 42K
A lonely girl learns to play a discarded trombone. An abused stallion learns to trust. Together, they save their world.
Eleven-year-old Josey Miller knows two things: it's her fault Mama left, and she will do anything to coax her back.
Mrs. Casey, the new music teacher, starts a band at Bennett Springs Middle School, and Josey sees it as her chance to finally belong to something and convince Mama to visit for her concerts. The only problem: there's no money for a clarinet, what with Dad laid off and fighting to keep their farm.
Things start looking up when Grandpa Joe gives Josey an old trombone to play, and Mr. McInerny starts boarding his high-dollar Arabian stallion with Dad. Nobody can train horses like Josey's father. And that's good because Chief is dangerous.
But when her father and the stallion go missing during a 50-mile endurance ride in the Ozark Mountains, can Josey bring them safely home?
This book is available from Amazon, Smashwords, and Barnes & Noble.
Annette, how did you come up with the title for your book? Does it have any special meaning?
Originally, the book was entitled "Phat Girl." You can see why I changed it. Bone is meant to have two meanings: 1) it's slang for trombone, which is what the protagonist plays, and 2) when I think of bone, I think of a hard substance not easily broken. That describes the main character.
Who was your favorite character and why?
The protagonist, Josey Miller. I love this young woman. She and I have spent a lot of time together since summer of 2011 when I first dreamt her up. She feels real to me. I adore her.
Does your book have any underlying theme, message, or moral?
I hope it's not obvious, but I want Bone Girl to encourage young people to look within themselves for solutions. Not as a"fix your own broken wagon, darnit!" but more in a, hmm, wagon's broken, huh? Well, what else could you use instead? Dog sled? Unicycle? What are the possibilities?
What would/could a reader or reviewer say about this book that shows they "get" you as an author?
This is from a review by one of my beta readers, PJ, which she posted to GoodReads. I started crying when I read her words, and the timing was awful: I was sitting in the middle of a writer's guild meeting, getting ready to stand up and make a short presentation. Here are PJ's words:
"By the time I was done, I wanted to learn to play the trombone and be a bone girl too…"
Give us an excerpted quote from your favorite review of this book:
Here's more of PJ's review:
"Maybe it's because the story was a nice balance between real world challenges and a little hopeful idealism in which you just knew that somehow, some way, things had to turn out right. Or maybe it's because Ms Drake simply knows how to tell a good story. By the time I was done, I wanted to learn to play the trombone and be a bone girl too. I wanted to live on a horse farm."
Where can people learn more about your writing? 
My website: http://annettedrake.com/