Our always-helpful friends at Amazon have dreamed up a new thing for Twitterers (or is it Tweeple?): a way to add stuff to your Amazon shopping cart without ever leaving Twitter.
It uses the #AmazonCart hashtag (for folks in the UK, the hashtag is #AmazonBasket).
Here's how it works: First, you need to go to Amazon and make sure your Twitter account is linked to your Amazon account for the purpose of telling your friends and followers about your purchases. Go to "Your Account," scroll down the page to the Personalization section, and click on "Your Social Settings."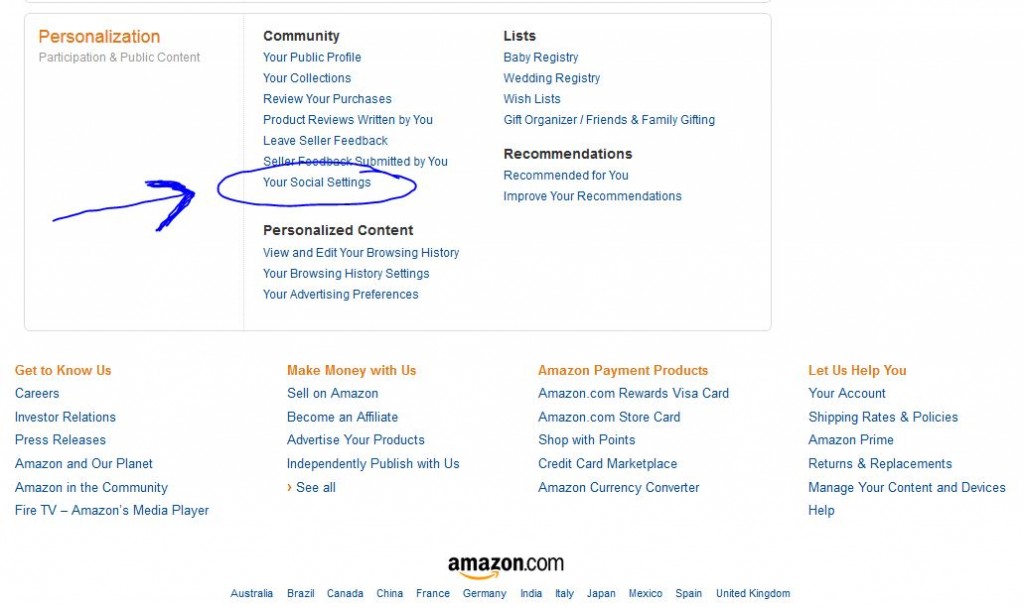 That will bring you to a box with two tabs at the top, one for Facebook and the other for Twitter. Click on the Twitter tab and see whether you've already linked your Twitter account to Amazon.

I hadn't, so I clicked on the "Connect" button, confirmed that I really wanted to do it, and we were all set.
Next stop was to try it out. Of course, I was most interested in seeing whether this might help me sell books on Twitter. So I spent some quality time scrolling through my Twitter feed, looking for Amazon links to books that looked interesting. The first time I tried it, it didn't work – Amazon claimed it couldn't find a product at that link, even though the link worked just fine when I clicked through manually.
However, I hit pay dirt with Melinda Clayton's Appalachian Justice.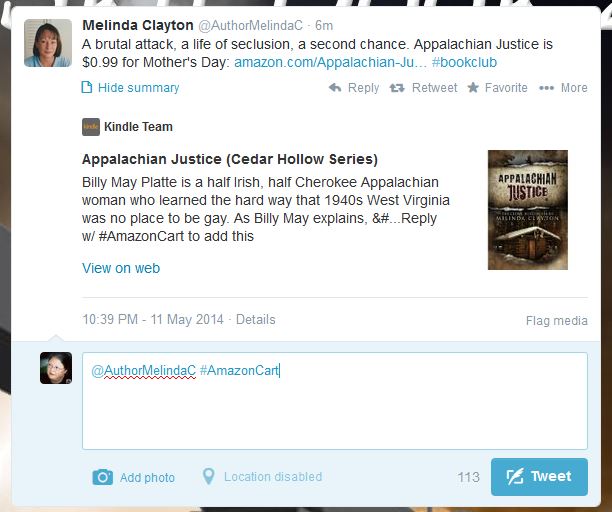 I hit reply, typed the #AmazonCart hashtag in the box, and tweeted it. Within moments, Amazon tweeted me back, letting me know they had sent a sample of the book to my Kindle.
Say what? What do you mean, a sample? Why didn't they put the book in my cart?
The follow-up email from Amazon explained it: "Digital products are not eligible to be added to your Cart using #AmazonCart at this time, so we have instead sent a sample of the book to your last registered device." The email also helpfully included a link to the ebook so I could purchase it outright.
Sure enough, in "Pending Deliveries" in my Manage Your Kindle section of Amazon.com, I could see that Amazon had indeed queued up the sample to be delivered to my Kindle for PC. Unfortunately, that particular version of Kindle for PC is on my old computer, and I couldn't find an option to have the file sent to a different device. So I never did get the sample. (Why Amazon chose that device, and not my actual Kindle, which is much newer, is a mystery for the ages.)
Still, Amazon Cart does work. It's just not quite ready for prime time when it comes to virtual products like ebooks. (I imagine you would run into the same issue with music files, although I didn't try it.) Even with non-virtual products, you're not actually buying the item when you tweet the hashtag; you still have to go to Amazon to finalize the purchase.
So if you plan to encourage your Tweeple to use #AmazonCart, you might mention that they'll only get a sample of your ebook – not the whole enchilada. At least, not yet.