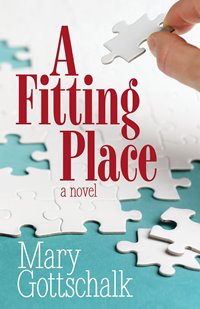 A Fitting Place
by Mary Gottschalk
Genre of this Book: Women's Fiction
Word count: 86,071
In the wake of her husband's desertion, Lindsey Chandler finds solace in a relationship that offers an intimacy Lindsey has never known.
Before long, she finds herself ensnared by the same destructive inter-personal dynamics that plagued her marriage. Because her new love is a woman, she is unable to blame her dilemma on traditional gender roles. Lindsey is forced to look in the mirror as she seeks to define what she wants from this—or any—relationship.
Freed from the straightjacket of societal notions of friend, wife, and mother, Lindsey calls on inner resources she never knew she had, as she sets out to build a new life for herself and her teenage daughter.
The premise of this psychological thriller is that opportunities for personal growth are greatest when you step outside your comfort zone. A Fitting Place is an uplifting story of the human potential we all have.
This book is available through Amazon.
Mary, how did you come up with the title for your book? Does it have any special meaning? 
The title references three metaphors: 1) a fitting room where you can try things (ideas) on for size 2) The Biblical notion that something is "fitting" for the situation 3) a puzzle in which you need to "fit" the right pieces in the right place.
Who was your favorite character and why? 
Lindsey's loyal but no-nonsense friend Dee, who (mostly) tells it like it is. Unlike Lindsey, she has a keen sense of humor, and can defuse almost any situation.
Does your book have any underlying theme, message, or moral?
The premise of this novel (as in my memoir) is that the potential for growth—personal, emotional, professional—is greatest when you are outside your comfort zone, when your core beliefs and values are routinely challenged by the people and circumstances around you.
What would/could a reader or reviewer say about this book that shows they "get" you as an author? 
Gottschalk's characters explore "edgy" or "provocative" issues in a way that gives the reader "a shiver of recognition" at the universal human dimension of even an unfamiliar situation or experience.
Give us an excerpted quote from your favorite review of this book:
"Mary Gottschalk has spun a tale of love, suspicion, betrayal and most other human qualities in a cast of real-life characters."
Where can people learn more about your writing? 
My website, which also features my blog http://marycgottschalk.com/home/